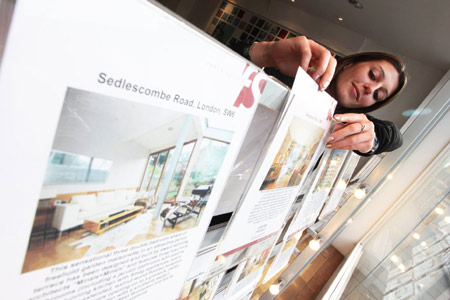 A sales broker at a real estate agent replaces a property advertisement in the company's window display in London. The strengthening of the yuan against major currencies in the past two years has meant Chinese buyers can acquire real estate assets abroad at a bargain. [Agencies]
BEIJING - Ask self-made millionaire Calvin Wang Fu what he's buying at the moment and his answer would certainly be property, property and property. "I wanted to purchase the whole block of apartments but because two units were already sold to different owners, I bought five units instead."
He was referring to residential units in London that he bought recently without ever seeing them. Nor has he been to London before. That's not boasting.
Equating his buying spree to a game of Monopoly, he has four commercial units and several luxury apartments in Hong Kong, on top of residential units in Canada, before recently acquiring five units of apartments adjacent to London's financial district. He's not stopping, yet.
Wang is eyeing more buy opportunities in London and Singapore this year. Currently collecting rent from a multinational, regional bank and a food and beverage outlet in Hong Kong, he's keen to add more commercial units to his stable of properties.
The low profile, high-net-worth businessman and investor from mainland co-owns a mining company in Jiangxi - a southern Chinese province rich in mineral resources - and is also a real estate developer in China.
He started investing in real estate outside the mainland in 2003 for better capital gains from sale or rental yields. Wang estimates that the total market value of all his real estate assets is around $26 million.
Overseas real estate purchases by Chinese are expected to see little effect from the latest move by the Chinese government to stop banks from giving out loans to those who are buying third homes in mainland cities that experience excessive property price gains. Lending to non-residents without tax returns or social security contributions have also been suspended.
"The new policy is to stop the speculators and I don't think it will stop the genuine buyers as they have the cash. And they could get loans from foreign banks in other countries to acquire properties abroad as these people can show strong financial standing," said Amous Lee, director of international investment in China at Knight Frank, a global property advisory firm and developer.
Albeit a minority group, Wang is part of a new breed of self-made, wealthy Chinese who is redefining the profile of property buyers in the global market. From the upper-middle class and with the financial muscles to own two to three or more properties in China and overseas, they are mainly from developed cities such as Beijing, Shanghai, Guangzhou and Shenzhen, said Lee.
Top destinations for purchases are in the prime cities of the United States, the United Kingdom, Canada, Australia and Singapore. Other Southeast Asian nations are also beginning to see inflow of Chinese money but purchases are limited and contained to Bangkok, Phuket, Kuala Lumpur and Bali.
Most property markets experienced a horrendous time during the 2008 global economic crisis. The silver lining for investors has been the chance to return to markets at what hopefully represents the low point of the cycle.
The strengthening of the yuan against major currencies in the past two years has also meant Chinese buyers could acquire real estate assets abroad at a bargain.
When compared to the yuan in the two years from January 2008 to 2010, the value of the pound decreased by 28 percent, the euro depreciated by 14 percent, the US dollar declined by 6.5 percent, while the Australian dollar lost 2 percent.
For cash-rich investors ultra-low interest rates have meant bank deposits have looked distinctly unattractive, while the low yields on bonds and volatility in the stock market have given additional pause for thought.
Related readings:


 China's real estate time bomb ticking


 Real estate market cools down in Shanghai on government moves


 China real estate bazaar drowns out govt warnings


 Real estate broker enjoying the ride
Added to this, the impact of the financial crash has not been as hard on the typical ultra-high-net-worth buyer of prime property. This has meant that many wealthy owners of property are again looking for investments, said Michael McPartland, managing director and head of residential real estate at Citi Private Bank.
"The wealth market is relatively insulated. Our clients look for opportunities when everyone else is circling the wagons. Buying becomes opportunistic in a downturn, particularly as people turn to hard assets such as property when other assets experience dislocation."
Where and what to buy are obviously key questions given that some sectors and some regions are still seeing prices moving down, while others have bounced so hard that they are nearing the values of the 2007 boom.