Magazines find a new and competitive market among modern, trendy Chinese men
The first thing you notice about Tian Xun is his smell. It is sophisticated - and expensive. Dunhill's London eau de toilette to be precise, apparently representing modern, masculine, elegance. Rich, dark and surprisingly fruity, according to the advertising. Down to his 1,300 yuan leather Red Wing shoes, this man reeks of style.
But it has not always been so.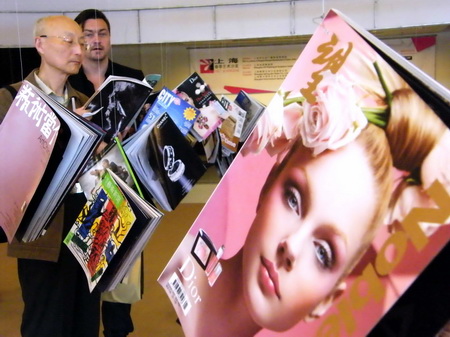 Readers viewing fashion magzines at an art salon in Shanghai. Nearly all the main fashion publications have launched men's magazines. [Asianewsphoto]
Three years ago Tian was just another regular guy, a product of an ordinary family from Jiangxi province, lucky and smart enough to graduate with a business degree.
From an early age he showed an interest in the media, editing a student newspaper before moving into mainstream journalism. Then he got the break many dream of but few receive.
At 26, he is now editor of Trends Esquire, a fashion bible for young men about town. And he embodies all that it stands for.
He is an icon for a new generation, one that never experienced the "cultural revolution" (1966-1976) like his parents' generation.
Related readings:


 Book, magazine must-have travel accessory: survey


 Chinese mainland's brands seek opportunities in HK Fashion Week 


 London Fashion Week


 Hong Kong Fashion Week for Fall/Winter 2010


 Hu Shuli gets top job at News Magazine

Instead, he is at the forefront of an entirely different social metamorphosis with millions of young male followers.
Trends Esquire has been the top men's magazine by reputation in China since 1999. It is part of Trends Group, one of the biggest fashion corporations in the Chinese mainland and copyright partner with the world famous Esquire magazine.
But life at the top is not easy. There is always someone trying to knock you off your pedestal. Tian is under constant pressure to maintain his publication's position in the face of aggressive marketing by rivals.
"Now captions and articles will be revised several times before they are published," he said, with a rueful smile.
"All magazines are constantly revising their strategies to better meet the needs of their readers and please their advertisers. The game is getting fiercer and fiercer."