Former Caijing head, two others to join general news publication
Nearly two months after she quit Caijing in a huff, Hu Shuli has been offered the top job at News Magazine, a little-known general news publication started in 1988 by a think tank focused on economic reform.
The 56-year-old Hu, along with two former high-level editors at Caijing, will effectively run the magazine, Hu's company, Caixin Media, and the Hainan-based China Institute for Reform and Development (CIRD), which owns the general news publication, separately told China Daily yesterday.
Hu will serve as editor-in-chief, Yang Daming as deputy editor-in-chief and Wang Shuo as editor of the magazine, Chi Fulin, the president of CIRD, told China Daily yesterday.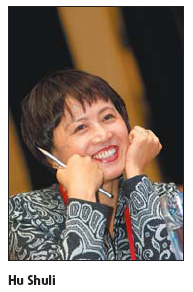 Hu has also been appointed as a part-time senior researcher with the CIRD. Yang and Wang will be part-time researchers at the institution, Chi said.
Miao Shubin, the former editor-in-chief of News Magazine, will serve as deputy editor-in-chief, Chi said.
"This is our company's first-ever magazine," Zhang Lihui, a spokeswoman for Caixin Media, told China Daily, adding the company may roll out more products in future.
Zhang said the News Magazine would remain a general news publication when asked if it would seek to mirror Caijing, the financial magazine that Hu helped found 11 years ago.
It was unclear whether Caixin Media had taken a stake in the publication. Financial details, if any, were not disclosed.
Currently, the News Magazine is published thrice each month - once every ten days.
News Magazine's latest issue features Han Han, a race car driver and blogger popular with China's youth, on the cover as its "Person of the Year".
Hu and her colleagues at Caijing, believed to be over 100 in number, left the magazine in early November. This followed the mass resignation of nearly 70 employees from the magazine's business department, including its general manager, Daphne Wu Chuanhui, in mid-October.
All those who quit joined Caixin Media later.
Related readings:


 Caijing Magazine rocked by resignations


 Caijing pioneers hard-hitting financial reporting


 Listed firm wins first suit against Caijing Magazine
Caijing's owner, the Stock Exchange Executive Council (SEEC), was believed to have tried to rein in Caijing's editorial independence, which Hu had resisted.
A source inside the magazine told China Daily early in November that the SEEC had sought more control to censor financial stories, especially cover stories and investigative reports.
Hu, a veteran journalist, had ensured that the Beijing-based bi-weekly was vocal on issues relating to official scandals, corporate fraud and public health emergencies ever since the publication was founded in 1998.
Caijing, arguably China's most influential and profitable financial magazine, boasted a circulation of 225,000 when Hu was at the helm.