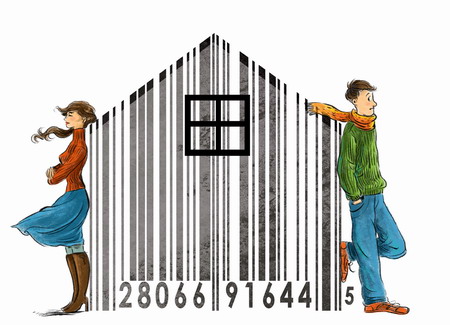 For 25-year-old He Fan, Beijing is not a city of fashion, romance and fantasy, but one of pressure, struggle and property.
"After graduating, all my life seemed to consist of trying to buy an apartment. It was something that would comfort and please my mum," said He.
She was born in Urumqi, capital of the Xinjiang Uygur autonomous region, and has been working as a teacher at an English language school in Beijing for three years. After majoring in English literature at a good Beijing university, He didn't return to her hometown, where house prices are much lower than in Beijing.
"My mother hoped I could work in Beijing after graduation. She believes it is a sign of success and she is very proud of it," He said. "If you're not able to settle down in Beijing, that's considered a big failure. In order not to fail, you have to buy an apartment in the city."
He didn't want to disappoint her mother and initially rented a 10-sq-m room, sharing a kitchen and toilet with eight other people before starting to look for a home of her own.
"It used to be a big office of about 150 sq m and the owner divided it into seven 'cells' with plasterboard," He said. "Renting such a room only cost me 600 yuan ($87.87) a month but the disadvantage was that there was always a queue outside the toilet and bathroom."
Unlike ordinary young women, He never goes on shopping sprees and refuses all invitations to dinner or to go clubbing. She said her favorite food was instant noodle flavored with braised beef and brown sauce. Her only hobby was teaching children English, for which, of course, she is paid.
In early 2009, He eventually bought a 75-sq-m apartment near Beijing's North Fifth Ring Road and moved into it with her 54-year-old mother.
However, happiness comes along with a 4,000-yuan monthly mortgage, which is equal to 70 percent of the He's monthly salary.
A report entitled the White Paper on the Health of Chinese White-Collar Workers, released by the Chinese Medical Doctor Association, shows that six out of 10 Chinese white-collar workers say they are feeling over-tired because of work and other pressures, while the top cause of anxiety is the ever-increasing cost of housing and property.
In the recent hit Chinese television drama, "Dwelling Narrowness" (Wo Ju, which literally means "snail home"), one of the main characters becomes the mistress of a government official in order to help pay her elder sister's mortgage. The 35-episode series has touched the nerves of city dwellers who have great empathy with the characters in the drama.
Beijinger Sun Ting, 29, tells a different story about the way to own a house.
When Sun was 18 years old, her mother started telling the girl her would-be husband should at least own an apartment in the capital.
"Initially I rebelled against mum's views, and I believed I should marry a man I truly love," she said. "However, I gradually realized that love and happiness are linked with a house without a mortgage."
When she saw her friends and sisters struggling to paying loans or even fighting with their boyfriends or husbands about houses, Sun knew her mother might be right.
She split up with her boyfriend, an industrious young man but one who didn't own any property, and soon after married a man who owned several houses. "Owning a house myself makes me feel safe because we don't need to always move if property owners want to raise the rent or end the rental agreement," Sun said.
Chinese TV channels have begun running talk shows on which psychologists and legal experts discuss problems that selected audiences meet in their daily life. Most problems seem to be caused by property and the shows are proving to be highly popular.
Former couples battle over a house they bought together after their marriage broke down on the program. Brothers and sisters quarrel on air over who should inherit the house of their deceased parents. A young woman complains that her boyfriend of eight years is not able to provide her a nice apartment.
According to a recent online poll of 360,000 people conducted by Tencent, China's largest Internet service portal, more than 80 percent of interviewees agreed with the statement "Happiness is closely related to owning a house".
Fan Chunlei, a researcher at the Institute of Psychology, part of the Chinese Academy of Sciences, said: "Chinese people possess many characteristics in their consumption philosophy. They put a lot of emphasis on appearances.
"For example, many Chinese attach great importance to the quality of their clothes and cars when they go out to meet people. That is a reason why retailers in China usually set higher prices on such products than they do in the United States and Europe.
"The situation is the same when it comes to real estate."
"An increasing number of Chinese are motivated to buy an apartment for the purpose of showing off rather than real demand," said Fan. "Many tend to buy houses as early as possible, as large as possible and as high-end as possible."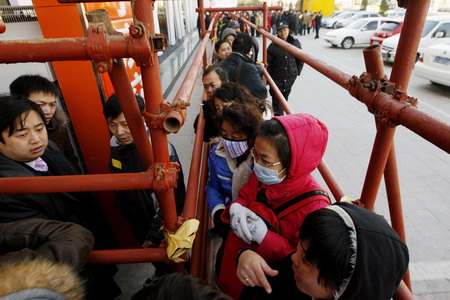 Queuing to view properties at Top Town, 30 km from the central Beijing. [Agencies]
On a chilly Saturday afternoon in December, hundreds of homebuyers, most from Beijing, braved freezing temperatures, to queue at the sales building of Top Town, a residential complex more than 30 km from central Beijing, located in Sanhe city, Hebei province.
The region, called Yanjiao, or suburbs of Beijing, has become popular with young homebuyers or homebuyers with smaller budgets, because of its lower prices and relative proximity to the capital.
Related readings:


 High-flying housing getting out of reach


 Real estate reflects falling morality


 Continued housing volatility a sure bet


 China to restrain 'abnormal' home price hike
The average house price in Yanjiao is about 6,000 yuan per sq m. The prices at Top Town soared to over 7,000 yuan per sq m within a month after it was launched in mid-November.
A salesman surnamed Tao said: "I have signed seven contracts with homebuyers today, and most blocks have been sold out."
According to the Beijing Municipal Statistics Bureau, the city's average annual income in 2008 was 44,715 yuan at a time urban apartments were selling at an average price of 15,581 yuan per sq m.