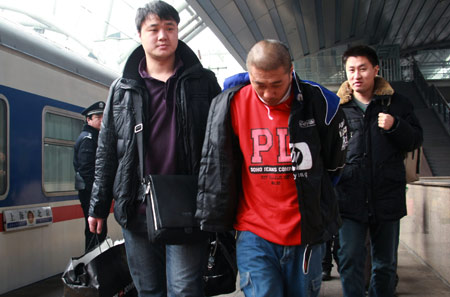 A suspect of the largest telecom scam in Beijing is escorted by police back to the city last week. [China Daily]
Five Taiwan men, assigned to the mainland to collect money from telephone scams, were arrested for their role in the single largest telephone scam in the mainland of 10.7 million yuan, police said yesterday.
Haidian district police said four suspects arrested in Jiangsu province were transferred to Beijing police on Dec 24. Another suspect arrested in Guangdong province will be brought back to Beijing soon.
On Nov 3, a woman in Haidian district called the police and said her family was cheated out of 10.71 million yuan.
The woman surnamed Zhang told police she got a call on Oct 22 from a "China Telecom" operator, who said she would have an overdue phone bill of 2,600 yuan. When she said she did not have the bill, the operator told her that her personal information might have been compromised and the call was then transferred to a district police department.
The "officer" said they were working with district prosecutors on leaked information and asked how much money the family had in their bank accounts.
The "president of the district procuratorate" then told the woman to put all their savings into one bank account. After she did that, the "president" called again and asked her to provide the bank account and password for an investigation. She found her money had been stolen 10 days later.
Police said they found frequent online transfers at the account in Guangdong and Jiangsu provinces, so they sent officers there to investigate.
In early December, police watched three men withdraw money from an account through bank video footage in Zhangjiagang, Jiangsu province. They suspected the gang might be linked to the scam.
On Dec 20, three men were arrested in Wuxi, Jiangsu province and found to be carrying 84 bank cards. They confessed to police they were assigned to the mainland to pick up money from scams. They also said one of their accomplices had been arrested in Changshu, Jiangsu province for hiring a prostitute. Another member in the gang was arrested in Guangdong province on Dec 26.
In another story, six Taiwan men were arrested by Xicheng district police for cheating 350,000 yuan from a Beijing resident by using a similar trick, police said yesterday.
Related readings:


 Two Taiwanese arrested in tourist-prize scam


 Businessman who lost HK$2.5m in bank card scam plans to sue


 Overseas jobs scam: 72 agents in police net


 China to crack down on cheating scam
A man surnamed Ma called police on Nov 17 and said he was cheated out of 350,000 yuan.
Police discovered the money had been transferred to a bank account registered in Jiangxi province, and that the money was being withdrawn in Henan and Guizhou provinces.
After investigation, they arrested six men in Nanchang, Jiangxi province on Dec 20. The gang was found to be carrying 648 bank cards, 26 mobile phones and 30,000 yuan in cash.
The gang was brought back to Beijing on Dec 26.
Beijing police launched a campaign to deal with telephone scams on Nov 9. They said losses amounted to more than 320 million yuan this year alone. In the week from Dec 23 to Tuesday, police got 5,960 reports from citizens about telephone scams and stopped 193 people from being conned out of 334,000 yuan.