Editor's Note:
Stock market index futures are cash-settled futures contracts on the value of a particular stock market index. The launch of index futures, which will allow investors to profit from declines in stock prices, to hedge risks and help ease fluctuations in market, is a milestone move that ends the one-way trade in China's capital market. [
Share Your Thoughts
]
Latest Development
Index futures to blossom in March
Stock index futures are likely to make their much-awaited debut on March 22, a source with knowledge of the matter told China Daily Tuesday.
The China Financial Futures Exchange (CFFEX) already started to accept applications for index futures trading accounts from Monday after the securities regulator formally approved the trading contracts and the revised rules of the new financial instrument. [Full Story]
Launch of Stock Index Futures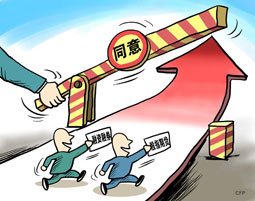 China approves index futures
An official with the China Securities Regulatory Commission (CSRC) said Jan 8 the State Council has approved stock index futures "in principle". It would take about three months to prepare for the launch of stock-index futures, a long-awaited futures item, according to the CSRC. [Full Story]
China OKs exchange to launch index futures
On Jan 12, China's securities regulator approved Shanghai-based China Financial Futures Exchange (CFFEX) to undertake stock index futures trade. A specific launch time shall be made by the CFFEX. [Full Story]
China launches stock index futures trading accounts
Chinese investors will be able to begin applying on Monday to open accounts for stock index futures trading, the China Financial Futures Exchange said, in a key step toward the long-awaited launch of index futures trade.
The exchange was set to begin taking applications at 9 am, state media reported. [Full Story]
Investors keen on new index futures
The new kid on the futures block seems to have got off to a great start, going by the early responses from investors.
For many like Yao Shanliang, a 63-year-old retired metal trader, the opportunity to trade in stock index futures was something that they did wish to slip out of their hands. Yao drove two hours from his home in Zhangjiagang in Jiangsu province to Shanghai yesterday to be one of the first investors to register for trading in index futures.
"I've waited for three years for this opportunity," he said. Yao first heard of the government proposal for the China Financial Futures Exchange (CFFEX) in 2008. [Full Story] 
***********************************************************************************************************
Margin Requirements and Entry Permit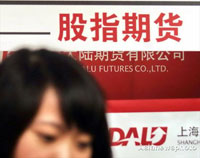 China approves final rules for index futures
Chinese securities regulators have approved the last important rules for trading the country's stock index futures, and eligible investors could apply for account openings starting from 9 am Monday February 22.
The China Securities Regulatory Commission (CSRC) approved trading contracts and rules submitted by the China Financial Futures Exchange (CFFEX), where the index futures will trade, xinhuanet.com reported Saturday February 20. [Full Story] 
Index futures tweaked to curb trading risks
China Financial Futures Exchange (CFFEX) on Jan 19 announced revised trading rules for stock index futures. Investors are expected to begin trading in April.
The revision raises the minimum trading margin for index futures from 10 percent to 12 percent and reduces the single-day maximum holding of futures contracts to 100 from 600, which was previously set during the trial period. [Full Story]
CSRC unveils draft rules for index futures investment
Investors are required to have a minimum of 500,000 yuan ($73,237.54) to trade in index futures and must have experience in simulated index futures trading or commodity futures trading, according to the draft published by the China Securities Regulatory Commission (CSRC), which is open to public comment until Jan 22.
It requires investors to trade index futures during the trial period for at least 10 trading days and they must engage in at least 20 transactions. Investors will also be asked to complete a training course and pass a test conducted by securities firms. [Full Story]
China finalizes high thresholds for index futures
Chinese regulators have finalized high thresholds for potential investors trading in the country's first stock index futures, effectively confining them to institutions and wealthy individuals initially to curb risks.
Investors must have at least 500,000 yuan ($73,250) in individual accounts to meet potential margin requirements, the China Financial Futures Exchange said in rules published late on February 8, finalizing earlier draft regulations. [Full Story] 
***********************************************************************************************************
Index Futures for Foreigners
Regulator ironing out nitty-gritties
China will soon clarify the rules and regulations on qualified foreign institutional investors (QFIIs) trading stock index futures in China, the country's top securities regulator said on Jan 14.
"The regulator will work on the policies and regulations on securities companies, mutual funds and QFIIs in order to guarantee the smooth launch of index futures," said Shang Fulin, chairman of China Securities Regulatory Commission (CSRC) at a national conference on securities and futures supervision that ended yesterday. [Full Story]
Index futures on deck for foreign investors
Foreign investors will be able to trade China's new stock index futures within two or three years, according to Leo Melamed, chairman emeritus of CME Group Inc, the world's biggest futures exchange.
Foreign institutions may also be allowed to trade index futures using a portion of their QFII quota, according to Jing Ulrich, chairwoman of China equities and commodities at JPMorgan Chase & Co in Hong Kong. [Full Story]
Swiss firm eyes index futures pie

UBS AG, which holds the largest investment quota of $800 million under the Qualified Foreign Institutional Investor (QFII) system in China, said on Jan 18 it would trade China's new stock index futures.
"Regulations have made it clear that QFIIs will be allowed to take part in index futures by putting up a certain portion of their QFII quota and we hope to participate in the new financial tool to manage risks," said Nicole Yuen, head of China Equities at Switzerland-based UBS in Shanghai. [Full Story]
Index futures benefits foreign investors
China's approval of short sales and stock index futures paves the way for foreign investors to bet on a convergence in valuations between Shanghai and Hong Kong.
The China Securities Regulatory Commission cleared the overhaul of trading laws on Jan 8 that will also permit buying equities with brokerage loans. The rules apply to mainland residents and the 94 international institutions authorized for mainland trading by the government.
Allowing investors to profit from share declines will make trading more efficient in the mainland and may eventually reduce the valuation gap with Hong Kong, where an index of mainland-based companies is priced at a 38 percent discount, according to ING Groep NV. [Full Story]
**********************************************************************************************************
Market Reaction and Comments
Chinese shares close mixed on Jan 11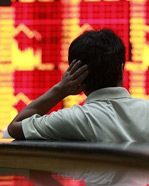 On the first trading day after it was announced that the stock index futures has won government approval, Chinese equities closed mixed on Jan 11 with the key Shanghai index edging up 0.52 percent, led by shipping companies and brokerage firms.
The unexpected announcement triggered profit taking and led to the downward movement, said Yu Junwei, analyst with the Shanghai Shiji Investment Consultant Company. [Full Story]
China's 'big step' on futures to boost investment
China took a big step toward opening its capital markets by approving stock index futures, paving the way for increased investment in the world's fastest-growing major economy, according to Invesco Ltd. [Full Story]
Index futures may trigger falls in small equities, says CICC
China's smallest stocks are poised to fall as the government's approval of index futures prompt investors to switch to larger equities that are half as expensive, according to China International Capital Corp (CICC).
"Valuations for small-cap stocks are looking stretched and news of the approval of index futures may spur a rotation into large-cap stocks," Gao Ting, Beijing-based strategist at CICC, a brokerage said in a phone interview on Jan 13. [Full Story]
Opinion leader: Stock market facing vital changes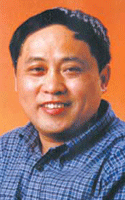 Despite receiving varied market responses, the planned launches of index futures as well as margin trading are expected to tremendously influence the Chinese stock market, which has drastically fluctuated over the past two years. Launching the two moves also shows that the domestic securities market is taking a big mature step forward.
The moves and the multitude of other stock market policies and regulations adopted by the Chinese government since the start of the year show that authorities are aspiring to develop an upward market.
Meanwhile, the introduction of these financial moves is expected to fundamentally alter how investors view the country's stock market and its methods of operation.
The author is a researcher with the Institute of Finance and Banking under the Chinese Academy of Social Sciences. [Full Story]
Blue chips, others to benefit from index futures
The planned stock index futures (SIF) will benefit four types of shares, according to the semimonthly business journal Chinese Entrepreneurs.
SIF, which will allow domestic investors to sell short for the first time, will benefit the brokerage shares, blue chips, shares of companies linked to index futures trading, and close-end funds, according to the report. [Full Story]