Villagers love to see local images on the screen
LAIWU, Shandong: Seated in a villager's home in Laiwu, Shandong province, 23-year-old Han Ke watches two women working in a courtyard house.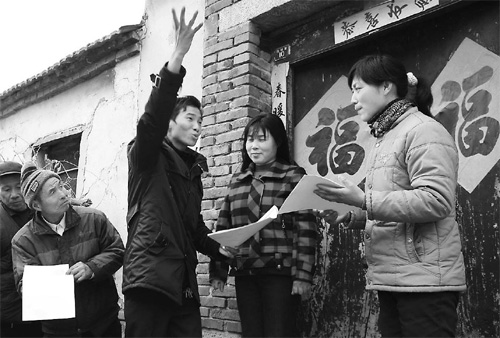 Han Ke (center), a self-taught director who documents life in the countryside, gives directions to actors at a village in Laiwu, Shandong province. [Ju Chuanjiang] 
The front door displays the red Chinese character "fu" for fortune. Peanuts scattered on the ground.
Welcome to the film shoot for Chinese lunar New Year production Celebrating Spring Festival, directed by Han, a self-taught director who documents life in the countryside.
Han is a villager from Xiachen village in Laiwu. He does not own any professional equipment or manage a production team and the film was shot with only several thousand yuan and a digital video. The film, which has attracted an audience of more than 60,000 people after being uploaded to youku.com, will soon be broadcast on Laiwu TV.
Han has led the Panlong Bangzi Troupe for the past six years, despite not having any professional training in Chinese folk opera. Bangzi has a history of almost 300 years and is considered part of China's cultural heritage.
In Laiwu, Han has founded the Sun Huayuan Chinese Opera School, which teaches Laiwu bangzi. He is also the deputy secretary-general of the Laiwu Dramatists and Folk Artists Association.
As troupe leader, Han said he has made every effort to publicize its productions by writing blogs and creating a Xiao Laiwu website. He has uploaded parts of the troupe's original films onto well-known websites Youku.com and Tudou.com.
So far, the troupe has its own percussion band and crew, and has grown to more than 100 members. They account for about 80 percent of all commercial performances in Laiwu, including wedding ceremonies, opening ceremonies, parties and gala shows. A recent profile on CCTV 2 led to increased performance bookings, he said.
Han and his team began making the New Year film on Jan 15. It tells the story of a Panlong bangzi troupe that is having difficulty establishing itself because families of the three principal actors do not believe farmers should act in operas.
At last, with the help of their leader Junzi, the actors win the approval of their families and stage their first drama on lunar New Year's Eve.
"This film is about things around us. Most of the stories are what we have experienced in real life. The scenes include bridges, roads, courtyards from our village and the performance stage where we once played bangzi," said Han, who wrote the script in just two days.
Han is a director, producer, screenwriter, cameraman and actor in the film. "It's very hard for farmers to shoot a film but I believe our efforts will pay off," he said.
Last year, Han and his village fellows filmed a 12-episode TV series titled Raising a Futile Son. The series charted the conflict between a mother and son as well as the relationships among neighbor villagers.
To enhance the attractiveness of bangzi to audiences, Han decided he would reform the opera, and add current techniques to the old performing style.
When asked about the reason behind shooting his latest film, Han said: "To inherit bangzi is my ultimate goal. I will prevent the tradition from declining through introducing bangzi to film and television. Only in that way can we make a profit, attract talent and get support from the local government."
"We have to build up our brand in order to expand its influence."
District culture bureau chief Zhang Xuebo compared Han to Zhao Benshan, a famous comedian known for modifying the song and dance duet Er'renzhuan - a traditional opera in Northeast China.
"Han Ke has applied commercial operations to traditional bangzi. Maybe he will become another Zhao Benshan," he said.
Han said he first began to perform bangzi when he was 16. He swapped a city job that paid him several thousand yuan a month and took up the role of troupe leader, for which he is paid nothing.
But despite his achievements, Han said he has doubts about the future of his craft.
"The troupe mainly sings traditional bangzi but there is less demand for this type of performance and fewer actors available for roles. Without money, props and costumes, the troupe will find it difficult to survive," he said.
He said the film was a loss-making venture and that the actors were not paid.
The opera troupe currently performs bangzi in addition to short comedy skits and films, which has produced additional income for the group.
Actress Zhang Wei said she became a local celebrity after the last film was broadcast and is regularly asked for her signature or to pose for photographs when she goes into town.
"I played the role of a bad woman in the previous film Raising a Futile Son. When my mother-in-law complained that I had become a bad woman in the film, I had to say to her: 'Mom, it is acting, it's not real'," she said.
"I just act out of interest. I am very glad I can bring happiness to audiences. I never dare to think I can become a star one day."
Zhang added: "The subjects of Han Ke's films are about rural life, so villagers like to watch them. I admire him for his persistence. I am sure he will succeed."
Actress Zhang Feng, who used to be a music teacher at an elementary school, and has been the lead actress in two of Han's productions, said her husband did not like her acting pursuits. Some conservative farmers share this opinion because the actors are not paid for their work.
Despite this, Zhang Feng donated 1,600 yuan ($240), a large amount of money for a farmer, to the development of the troupe. Zhang Xuebo, chief of the culture and sports bureau of Gangcheng district, has also donated 2,000 yuan from his personal savings.
"Han is so serious that we have to act again and again if he is not satisfied. Sometimes, we have to shoot scenes 10 or 20 times," she said.
Han's neighbor, 62-year-old Lu Yingju, said: "His film tells a story that is familiar to us, and different from the films that tell stories about emperors or spy games. It's fabulous!"
Lu Fengying, Han's 67-year-old grandmother, said Han was a determined man and had developed his tough character as a child.
Han was nine when his father died and he quit school to find work when he was 15 to reduce the burden on the family.
"It was too young for a child to work in the city alone. It's beyond my imagination that he could shoot a film!" she said.