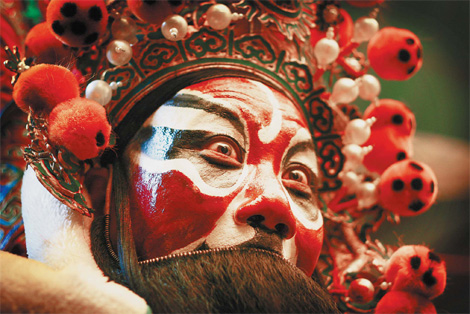 The Tiange Peking Opera Troupe actor Wang Hongbo. [China Daily] 
I set out on a journey in Wenzhou, a city in Zhejiang province, last April after a friend told me stories about the folk opera troupes there.
It took me sometime before I found Tiange Peking Opera Troupe. I spent several days with them, capturing their lives in video.
The troupe had some 40 people who came from across the country. The youngest actor was 12, and the oldest about 60.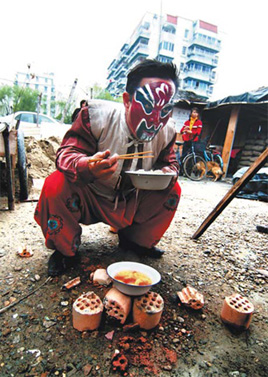 An actor has a quick meal during a short break. [China Daily]
They led a wandering life, performing wherever they could earn money. They all took quilts along with them when they traveled, because they often had to sleep outdoors. On the first night I too was told to pick up a quilt but it was too short to cover me and there was no pillow. The next day I used two bricks as a pillow.
In the troupe were several couples. The troupe's owner Yang Chunlan, about 50, lived together with her former husband and his current wife.
I first met Yang behind the stage curtain. She was holding a girl in her arms. I thought the girl was her granddaughter, but later discovered it was the daughter of her ex-husband and his new wife.
Yang was a popular actress when she was young, but when she failed to produce any child even after several years of marriage, her husband married another woman.
Fourteen years later, however, the two met again. He persuaded her to move in with him and his new wife.
Another interesting character was a 27-year-old actress Digu, who ran away from home to follow a troupe at 13. She performed with several troupes, until she met and fell in love with a 60-year-old.
Her lover played old male characters in the troupe. He was a good-looking man who had worked in various folk troupes for 30 years. Whenever he called his young wife, in a loving tone, it felt like a scene from an opera.
There are about 400 such folk troupes in southeastern Zhejiang province. China has more than 300 local operas, many of which are still appreciated thanks to these folk troupes.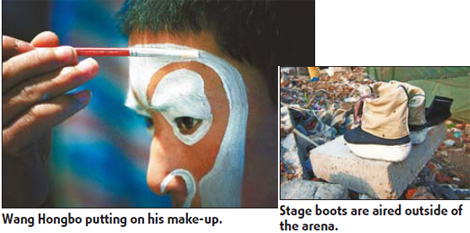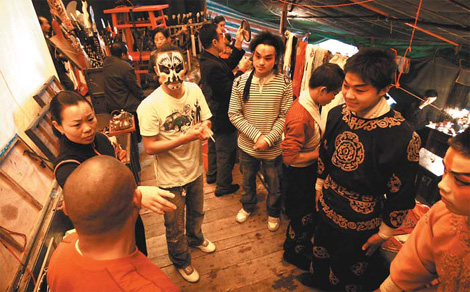 Yang Chunlan (left) discusses the performance with several of her actors. [China Daily]