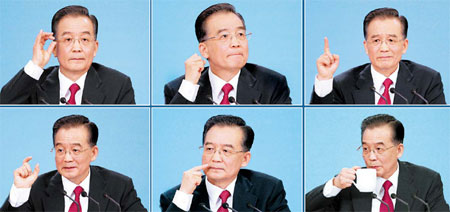 Premier Wen Jiabao gestures as he answers questions during a news conference at the Great Hall of the People in Beijing on Friday.[China Daily]
Premier Wen Jiabao pledged on Friday that China is capable of launching a new stimulus package "at any time", but analysts remain divided over whether the nation can achieve its goal of 8 percent GDP growth this year.
Wen told a press conference after the annual National People's Congress (NPC) session that China is prepared for protracted difficulties as the global financial crisis worsens, and has gathered sufficient "ammunition" to combat the deepening crisis.
"We've left policy leeway and can put forward new stimulus policies at any time," the premier said.
Investors, however, seemed cautious, with the benchmark Shanghai Composite Index on Friday closing five points lower than the previous trading day, sharply contrasting with the 6 percent surge on March 4, when it was rumored that Wen would announce new stimulus measures at the opening of the NPC session.
Related readings:


 Premier 'worried' about safety of China assets in US


 China has much room for new stimulus package


 Wen: 8% GDP goal difficult but achievable


 Premier urges support for private sector amid crisis
China rolled out a 4-trillion-yuan ($586 billion) stimulus package on Nov 9, but economists said it may need to earmark more funding if the economy fails to recover as strongly as expected in the second half of this year.
Wen's remarks were a formal confirmation that the country remains ready to take new initiatives to keep the world's third-largest economy moving amid the still worsening global financial crisis.
"First-quarter macroeconomic data will be crucial in determining whether China makes fresh stimulus moves," said Zheng Xinli, vice-director of the Policy Research Office of the Communist Party of China Central Committee.
"Whether China takes new steps hinges on the effectiveness of the stimulus package as indicated by that data," he told China Daily during the NPC session, which concluded on Friday.
Louis Kuijs, senior economist of the World Bank in China, agreed. "We think China has implemented an array of stimulus policies that help growth," he told China Daily. "If, as we expect, economic growth falls short of the target, a likely, tempting response may be to increase the fiscal policy stimulus."
Statistics, such as electricity use and the purchasing managers index, have shown initial signs of recovery, analysts said, although many economists warned that first quarter GDP growth would be lower than the 6.8 percent growth in the fourth quarter of last year.
They generally hold that China's economic growth will rebound from the second half of this year.
"The GDP growth target will be met after the stimulus plan brings the economy out of the downturn in the second half," said Li Daokui, an economist at Tsinghua University and a member of the 11th National Committee of the Chinese People's Political Consultative Conference, the country's top advisory body.
But some economists doubt the target can be met.
Kuijs said: "We think that, given the very unfavorable international outlook for 2009, it will be very difficult for China to achieve 8 percent GDP growth this year."
Wen said the country's vast domestic market, great consumer potential and healthy financial system would provide a solid back-up for stable economic growth.
He also said that the central government's 1.18 trillion yuan investment from the 4-trillion- yuan package was totally new money.
The country also plans to spend 850 billion yuan on reforming the healthcare sector within three years, he said.