Export-Import Bank of China, or China Exim Bank, will extend credit to the country's biggest aluminum producer Aluminum Corp of China (Chinalco) to finance the latter's acquisition of Rio Tinto Ltd, a top executive said Tuesday.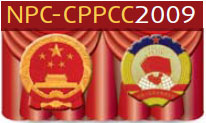 "China Exim Bank will consider making the loans to Chinalco's Rio Tinto deal," the bank's Chairman and President Li Ruogu told reporters on the sidelines of the annual session of the National People's Congress and the Chinese People's Political Consultative Conference.
Bank of China (BOC), the country's third-biggest lender, will also provide loans to Chinalco's deal, the bank's President Li Lihui said last week.
Chinalco will inject $19.5 billion into Rio Tinto Ltd, the London-based miner announced on Feb 12. This will increase Chinalco's stake in the miner to 18 percent, from the 9 percent it held earlier.