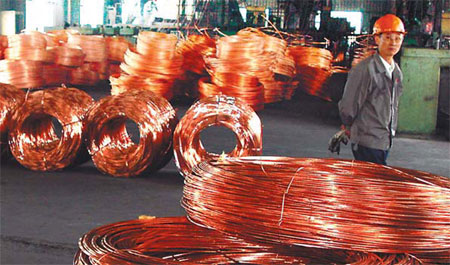 Copper wire stocks at a metal company in Jiangxi province. Zhu Youlin
Futures contracts of non-ferrous metals traded on the Shanghai Future Exchange (SHFE) soared yesterday on reports that China is building up a copper stockpile for the economic stimulus plan.
Related readings:


 China to see worsening mineral shortage in next 15 years


 Hunan Nonferrous takes stake in Australian miner


 China's steel futures may debut in early 2009


After hitting the exchange-imposed daily limit of 5 percent in Shanghai on Wednesday, the price of copper futures contracts surged another 2.39 percent yesterday. Contracts for aluminum edged up 0.77 percent, while zinc rose 1.72 percent.
Jiang Hai, analyst, Brilliant Futures Investment Study, said non-ferrous metal prices rose in the past few days on reports that the State Reserve Bureau (SRB) is building up its inventory of copper, aluminum and zinc in anticipation of strong demand.
Traders expected that the SRB's buying spree would help push up commodity prices in the futures markets.
Zhang Xiaohan, analyst, Essence Securities, said the SRB shopping list includes 700,000 tons of copper, which would increase China's copper inventory to about 1 million tons.
Zhang linked the futures price rise to the falling inventories of copper on the London Metals Exchange (LME) over the past week. During the week between Feb 23 and Mar 1, copper stockpiles on LME dropped 0.6 percent. During the same period, copper futures contracts rose 3 percent to close at 28,640 yuan per ton on SHFE.
"The price gap between overseas and domestic markets has sparked a rush by speculators to buy copper futures on the LME," said Zhang.
The nation's stimulus program, including infrastructure projects and promotion campaign of automobiles and home appliances in rural areas, will call for a huge supply of nonferrous metals. "This will help restore market confidence and facilitate deals in the futures market," said Zhang.
In his report to the ongoing National People's Congress session, Premier Wen Jiabao said China will expand purchases of important resources. In a separate statement, the National Development and Reform Commission (NDRC), the country's top planner, said China would increase strategic stockpiles for emergencies.
However, analysts noted that the recent surge might end soon as China cannot turn the tide single-handedly when facing a global economic recession.
"Although prices of copper and zinc will show stronger resilience in the near future, nonferrous metal futures will all face a price cap in the foreseeable future," said Jiang.