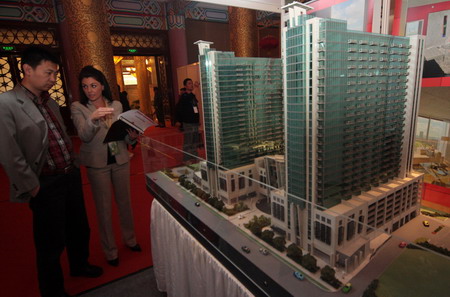 A saleswoman explains a US property project to a Chinese visitor at a recent real estate show in Beijing. Chinese investors have been showing interest in buying overseas assets. [China Daily]
Buoyed by the visit of China's first home-purchase delegation to the US in February, a growing number of Chinese institutional investors and property firms are seeking overseas buying opportunities in the real estate sector, but with a much more serious and low profile approach.
"One or two property deals valued at more than $100 million each are expected to be inked in the next six months, and another four to five deals are in the pipeline," Jeremy Helsby, CEO of Savills, a UK-based real estate service provider, told China Daily in an exclusive interview.
Prior to Helsby's visit, officials from Savills' London, New York and Tokyo offices were in the Beijing and Shanghai offices to share their knowledge on the overseas property markets with their Chinese colleagues.
"China has the money, while the overseas markets have quality assets offering good price and value. So, such deals are natural choices," said Helsby.
Last month, China Investment Corp (CIC), the nation's $200 billion sovereign wealth fund, announced plans to commit A$200 million ($159.3 million0, for an 8 percent equity stake, to the A$485 million financing plan of Australian property trust Goodman Group.
This is the first time that CIC is investing in the real estate sector.
Helsby said most of the buyers who are in touch with his firm are private companies and institutional investors.
Related readings:


 Time to buy US houses?

 US property dealers eye wealthy Chinese


 Shopping team headed for US tour


 Chinese tourists go house-hunting in US
"Their primary choices are high-profile office buildings with good locations in Asia, Australia, UK and the US, where big corrections have occurred," he said.
In London for instance, the price of property assets has fallen nearly 50 to 60 percent from the 2007 levels, he said.
According to Helsby, there are no financial barriers at present for Chinese institutional investors in buying overseas properties.
"The major challenges are the hardening price and finding quality products, as Chinese investors have to compete with those from Middle East and other regions," he said.
Besides institutional investors, some of China's leading property developers are also seeking overseas investment opportunities.
A manager of China Overseas Property, who declined to be named, said the company is looking at such chances, but mainly within Asia.
David Hand, head of investment at Jones Lang LaSalle China, said Chinese real estate firms could either buy quality assets or acquire a platform that might give them better access to other markets.
"They could form partnerships, with Chinese developers providing the capital and cost-effective construction," said Hand. "This year will provide good buying opportunities in the overseas property sector," he said.
But according to Eric Wang, head of Asia Real Estate Research, Chinese investors should not be in a rush.
"The crisis of financial assets may be waning, but it will take a long time for the economies of developed countries to bottom out. So, the property markets in the world's major metropolitan cities are not likely to experience a V-shaped rebound as we did. A gradual buying would be a better approach," said Wang.