US real estate developers, brokerage houses and other firms are currently taking part in Beijing's spring housing exhibition.
What are the implications of their presence in the Chinese capital?
Does it mean globalization has developed to such a degree that more and more Chinese mainlanders are actually participants now instead of just referring to it as some remote phenomenon?
Related readings:


 US property dealers eye wealthy Chinese


 Property prices continue upward march


 Rentals inch down in Beijing in Q1


 Property prices continue upward march 
China's first group of would-be owners of US homes attracted a lot of attention both at home and in the US when they traveled there recently.
The world, to quote Thomas Friedman, really has become flat.
Housing purchasers travel from all ends of the globe to buy realty, an unimaginable occurrence years ago.
However, the group reportedly returned with not a single deal inked.
The rumor they went just for a look is groundless, given the market's current low prices.
There should be reasons for their empty-handed return.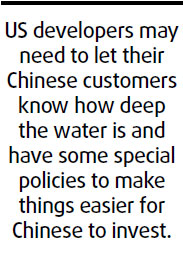 Whether it is worthwhile to invest now was the major reason for their reluctance to make decisions.
It is necessary and understandable for them to be prudent.
The related taxes they would have to pay for maintaining the properties, the possible fluctuation of prices in the near future and how they manage these properties from afar are the main factors that will impact returns.
Now the Americans are here in Beijing to seek cooperation and sell their houses.
But have they brought with them the right products for their Chinese customers?
Chinese house buyers are already concerned about whether housing prices have dropped to the lowest level in the domestic market, and want to know much more not only about the market in the United States but also relevant laws and regulations.
When China first opened up in the early 1980s, central and local governments introduced a range of preferential policies to attract foreign investors because they knew they would never come unless they were sure they could make money.
If American real estate developers really want Chinese to buy their houses, they need at least to let their Chinese customers know how deep the water is.
They may also need to have some special policies to make things easier for Chinese to invest.
This may help the US housing market recover from the slump caused by the sub-prime crisis and afford Chinese the dream of owning US properties.