The Ministry of Commerce is sending a delegation to the United States this month to explore trade and investment opportunities - close on the heels of a similar mission to Europe - according to sources.
The team will visit Washington, Chicago and San Francisco on a 10-day trip later in the month.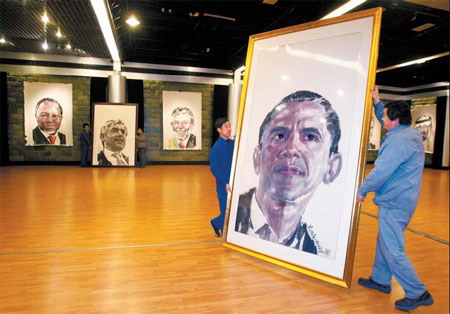 Workers in Beijing put up a portrait of US President Barack Obama on Monday at an exhibition featuring portraits of 23 world leaders who will attend the G20 summit in London tomorrow. [China Daily] 
Gao Yaling, a press officer at the ministry, yesterday confirmed the trip to China Daily, but would not elaborate.
The buying trip comes only two months after a commerce minister-led trade mission to Europe, where Chinese enterprises signed deals worth more than $13 billion in four countries.
Related readings:

 Business delegation studies key sectors in Europe


 China to send delegation to Britain for mutual investment


 Business delegation creates win-win Europe situation


 Business delegation starts European procurement tour


 'China should fight protectionism'


 HSBC chief: China vital to fight on protectionism


 Hopes that G20 may limit protectionism
Zhou Shijian, a senior researcher on China-US relations at Tsinghua University, said: "When many countries are trying to shut their doors and protect their domestic markets, China is demonstrating its commitment to free trade by sending such missions to major trading partners."
The delegation is also seen as a prelude to a trade and economic dialogue between China and US, the first after US President Barack Obama took office.
Vice-Foreign Minister He Yafei said earlier that President Hu Jintao will meet Obama for the first time during the G20 Summit in London, and they would discuss the platform for the political and economic dialogue.
Beijing dispatched similar missions to the US before each year's high-level Strategic Economic Dialogue, or SED, a bi-annual event initiated by Hu and former US president George W. Bush in 2006.
Between then and 2008, Chinese enterprises purchased technologies, goods and services worth $62.4 billion.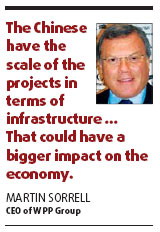 The shopping missions "set a good example for other countries, and are conducive to a better global trade environment," said Feng Lei, a researcher on international trade with Chinese Academy of Social Sciences. "The current crisis is, to a large extent, a crisis of confidence. Buying trips by China will help restore confidence of enterprises and consumers both in China and other countries," he said.
The purchases will also help reduce China's surplus with the US, said Zhou.
During the first two months of the year, China's exports to the US declined by 16.1 percent to $29.1 billion, and imports were $10.4 billion, down 20.9 percent, resulting in a trade surplus of $18.7 billion.
Zhou, who used to work at the Ministry of Commerce, also said the government plans to send similar delegations to Africa and Japan later this year.