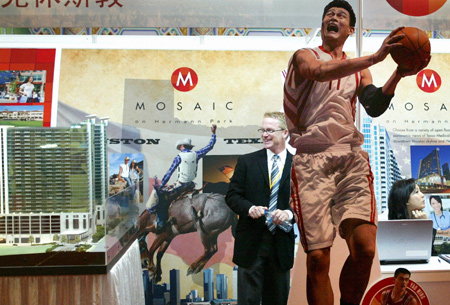 A giant image of Houston Rockets star Yao Ming is displayed at the booth of a property firm from the Texas city at the Sino-US Real Estate Exhibition Fair, which opened in Beijing Friday. Wang Jing
Around 20 US real estate brokerage companies and investment firms made their debut in Beijing on Friday, showcasing their property projects to China's wealthy citizens.
This is the first US property selling delegation to China, following a Chinese buying delegation's trip to the US in March.
Related readings:


 Time to buy US houses?


 Property prices firm up in first quarter


 Further downside seen in mainland property

"China, which has a fast growing economy and an emerging group of rich people, is now a market we cannot afford to miss," said Rob Emerick, head of the US delegation.
According to the Boston Consulting Group's report, China had the world's fifth-largest population of millionaires in 2008, at 391,000, up 20 percent from the previous year.
Forty-something Lin, from Tianjin, is one of the millionaires looking for buying opportunities. "My primary choice is an apartment or a penthouse in Los Angeles where I have a few friends," said Lin. Besides, "in such an economic downturn, you have to find a place for your money", said Lin, who runs a business in Shanxi province.
Thomas Cervone from the MOSAIC property firm, said: "We are very close to the bottom, and the weak dollar makes the Chinese customer's purchase easier."
The annual cash-on-cash return, said Cervone, is expected to reach 7.6 percent before tax, the appreciation being around 5 percent in three to five years.
Experts say there are no legal barriers for Chinese people to buy properties in the US, but prolonged stay there without a valid green card remains impossible.
"Even though you own an apartment in the US, you still need business or tourist visa for short-term stay and a green card for long-term stay," said Yin Guohua, a lawyer specialized in the property sector.