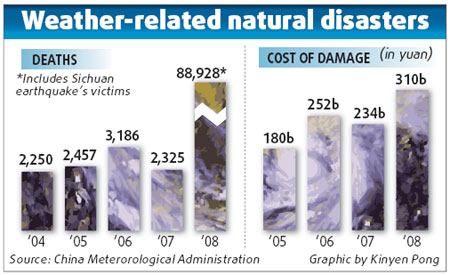 The nation is bracing for a higher risk of more extreme weather as a trend toward increasing weather-related disasters has been recorded since the 1990s, top weather experts have said.
"Extreme weather will be more frequent in the future due to the instability of the atmosphere, and global warming might be the indirect cause," He Lifu, the top weather forecaster at the China Meteorological Administration (CMA), told China Daily.
He said extreme-weather events such as drought, storms and floods have already become more frequent and more severe in the country.
The CMA responded to 16 emergencies last year to address weather-related disasters, the most since 1949.
Statistics from the Ministry of Civil Affairs suggest extreme weather caused an annual economic loss of over 176.2 billion yuan ($25 billion) on average in the 1990s. But the figure rose to an annual average of 244 billion yuan ($35 billion) between 2004 and last year.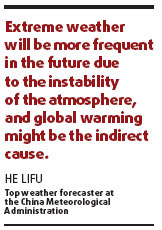 The State Flood Control and Drought Relief Headquarters has also warned in a statement that "drought has become more frequent, causing more crop failures in the country" since the 1990s.
"The scope of drought has been expanding over the past years, with drought becoming more severe in the north and even spreading to the humid southern and eastern regions," it said.
Zhang Jiatuan, director of the drought relief division at the State Flood Control and Drought Relief Headquarters, said grain loss caused by drought has averaged 37.28 million tons each year since 2000, almost twice that for the 1980s.
The annual average proportion of drought-damaged crops in the country jumped from 48 percent in the 1990s to about 59.3 percent since 2000.
The perceived rise in freak weather events in China coincided with last week's annual Red Cross report, which said a global trend toward increasing weather-related disasters was confirmed in 2008.
Related readings:


 UN: climate change deepens disaster risk for poor


 Chinese government allocates $30m for disaster relief


 Climate talks offer hope


 Climate change root cause for poverty, says report

The International Federation of Red Cross and Red Crescent Societies (IFRC) said the number of people reported killed by natural disasters last year - 235,736 - was surpassed only in 2004, the year of the Indian Ocean tsunami, with damage of more than $181 billion.
"We also see a confirmation of the trend that we've seen in the past decade of a rise in weather-related disasters, which is concerning us and putting an additional strain on our operations," said Maarten van Aalst, an author of the report.
"In the 1990s, we saw an average of about 200 natural weather-related disasters per year. In the past decade, that's been an average of about 350. Last year, we had 297, which is ... still well above what we've been used to in the past."
This month alone, freak weather such as intense storms and strong gales hit most parts of the country. Anhui was hit twice, on June 3 and 14, with 37 people dead and nearly 5 million victims.
Since last Wednesday, many provinces in north China have been hit by scorching heat, with the temperature reaching at least 35 C. The temperature in some regions in north Hebei province even hit 40 C.