US Secretary of State Hillary Clinton on Sunday reached out to the world's largest Internet community to push forward her agenda of combating climate change.
For Clinton, achieving the green goals of lower emissions and cleaner energy that have been set at the highest levels of government boil down to the personal choice of each and every individual, including those in her own family.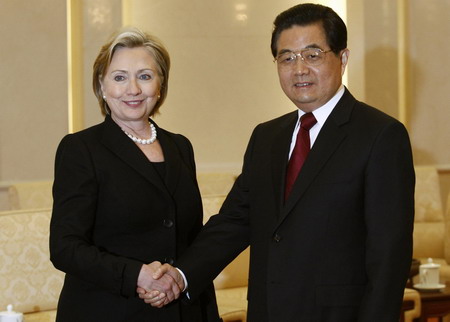 President Hu Jintao shakes hands with US Secretary of State Hillary Clinton (L) during a meeting in Beijing Feb 21, 2009. [Xinhua]
"We try to change our mental attitude. Turning off appliances, turning off lights. My late father grew up with the belief that you didn't waste things like electricity. We would turn off the furnace at night. We would turn off all the lights when we left the room," Clinton, 61, told Tsinghua University's public policy institute director Qi Ye, who hosted the chat organized by China Daily's website at the US embassy. 
Video News:


Video:
China Daily exclusive interview with Hillary Clinton


Questions from Chinese for Hillary

Related readings:


China, US to expand economic coop


Clinton pushes co-op on climate


President Hu meets Hillary Clinton 


Clinton in Beijing to seek consensus


US to 'deepen relations' with China


Wen, Clinton underline bilateral ties

The former first lady of the
US
had set fighting global warming as one of her top priorities for her three-day visit to
Beijing
.
Clinton
's first overseas tour as secretary of state had taken her to
Japan
,
Indonesia
and the
Republic
of
Korea
before the final leg in
China
.
Apart from visiting a clean-energy thermal power plant with Todd Stern, US special envoy for climate change, Clinton also went to a church and met a women's group during her 40-hour stay here.
During the visit to the thermal plant on Saturday, Clinton had highlighted the importance of the China-US partnership in battling global warming and expressed hope that China would not "make the same mistake" as the US when growth came at the cost of the environment.
It was a message she reiterated during the web chat Sunday.
"I confess … we got a little bit less aware. And I think most Americans did. And we weren't paying attention. We had so many … appliances plugged into the wall, draining electricity all the time. And we walked out of the room with all the lights on. Our big buildings would be lit all night long. We wasted a lot of energy, we wasted a lot of money," Clinton said.
"We can't do that. So being more efficient will take us a long way toward what we need to achieve.
"We just don't want you to make the same mistakes we made. So that instead of just building more coal-fired power plants which may be slightly more efficient but are still large emitters, how should we work together so that you get your energy needs met without putting more absolute greenhouse gas emissions … into the air," she said.