BEIJING -- Chinese Foreign Minister Yang Jiechi met US Secretary of State Hillary Clinton on Saturday morning, both pledging to upgrade bilateral ties in dealing with common challenges.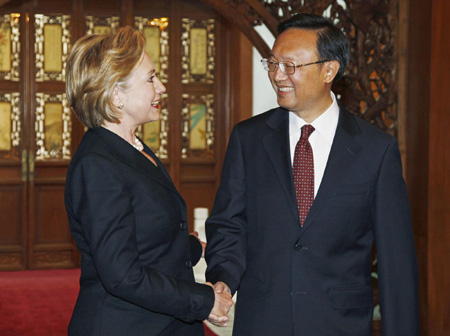 US Secretary of State Hillary Clinton (L) is greeted by Chinese Foreign Minister Yang Jiechi in Beijing February 21, 2009. [Agencies] 
"As we start the new administration of President Obama, we want to deepen and broaden our relationship," said Clinton who arrived here Friday night after her tour to Indonesia, the Republic of Korea, and Japan.
Related readings:


 Clinton seen as example for women


 Quotes from the press: Clinton in china


 Clinton in Beijing 'to seek consensus'

This marked the beginning of face-to-face diplomacy between the two countries since the Obama administration took office last month.
Clinton said she believes the US and China have established a solid foundation for the relationship, but there is "much more to be done".
Yang said Chinese President Hu Jintao has exchanged views with his US counterpart Barack Obama by phone and other means after he took office, reaching consensus on further promoting Sino-US relations in the new era.
Yang expressed appreciation for the long-time contribution by Clinton to enhancing Sino-US relations.
"I expect to establish a good working relationship with you for the promotion of exchanges and cooperation between our two countries", Yang said.
He said Chinese government has valued relations with the United States, and as the largest developing country and the largest developed one, China and the United States should and are able to establish a "long-term, stable, healthy and developing relations."
Entering 21st century in particular, the two countries share more common interests and have a broader foundation for cooperation while confronting the pressing global challenges, Yang said.
"The current situation calls upon us to strengthen dialogue and exchanges, increase mutual trust and cooperation, and to upgrade the bilateral ties to a new height," Yang said.
Clinton was scheduled to meet with Chinese President Hu Jintao, Premier Wen Jiabao and State Councilor Dai Bingguo later Saturday.
She will also visit a clean thermal power plant built with U.S. and Chinese technology, which Clinton hailed as "an example of the kind of  job-creating, bilateral, public-private collaboration that we need so much more of."