Hillary Clinton arrived in Beijing on Friday night for the final leg of her first overseas tour as secretary of state.
She was met by Assistant Foreign Minister Liu Jieyi as she exited a US Air Force Boeing 757 at Capital International Airport's special terminal at about 7:40 pm.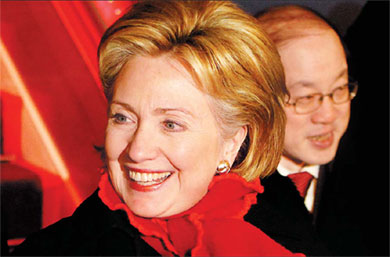 US Secretary of State Hillary Clinton arrives at Beijing Capital International Airport on Friday evening, kicking off her three-day visit to China. [China Daily/Xu Jingxing]
Dressed in a long black overcoat, the former first lady accepted bouquets from a group of children and waved to members of the media.
Clinton's weeklong trip has taken her to Japan, Indonesia and the Republic of Korea (ROK).
Shortly before arriving in Beijing, Clinton said on Friday that the debate with China over human rights, Taiwan and Tibet cannot be allowed to interfere with attempts to reach consensus on broader issues.
Related readings:


 Clinton: US to 'deepen relations' with China


 China, US to hold defense meeting in February


 Clinton seen as example for women


 Quotes from the press: Clinton in china


 Hillary Clinton visits S. Korea


 Clinton hammers home Obama message in Asia


 Clinton comes to Indonesia on symbolic visit


 Clinton begins Asia trip under DPRK shadow

She said it might be better to agree to disagree on long-standing positions and focus instead on US-Chinese engagement on climate change, the global financial crisis and security threats.
In surprisingly candid remarks, she said each side already knows the other's long-standing divergent positions on those matters, and progress might be more achievable by concentrating on other areas where Washington and Beijing can work together.
"Our pressing on those issues (human rights, Taiwan and Tibet) can't interfere with the global economic crisis, the global climate change crisis and the security crises. We have to have a dialogue that leads to an understanding and cooperation on each of those."
Chinese analysts have said economic issues amid a global slowdown will be some of the top concerns for Clinton.
"Beijing will certainly tell Clinton that Washington should avoid trade protectionism," Professor Pang Zhongying of Renmin University of China said.
Anti-protectionism is now a "grave concern" for China amid the financial meltdown, he said.
Clinton has also expressed hopes her trip will speed up the resumption of military exchanges between the two countries.
The two militaries are scheduled to hold a dialogue next week in Beijing, months after military exchanges were suspended in October when the Bush administration announced a planned arms sale to Taiwan.
Clinton said earlier there will be no change in Washington's policy on arms sales to Taiwan under US President Barack Obama's administration.
Media reported the issues would also be tabled during Clinton's meeting with Chinese leaders.
Clinton told the Japan-based Asahi Simbun on Tuesday that the US government wants to engage China in discussions on nuclear nonproliferation and arms reduction.
Pang said the current impasse in Korean Peninsula denuclearization talks will be another key concern for Clinton in her meetings with Chinese leaders.
The secretary of state's Asia tour comes amid rising tensions on the peninsula as the two Koreas have heightened military confrontation along their land and maritime borders.
Both Beijing and Washington want to stick to multilateralism and China will express its hope to continue the Six-Party Talks over the denuclearization to Clinton, Pang said.
On Friday, Clinton named Stephen Bosworth, an academic and former US ambassador to the ROK, to the new post of special envoy on the Democratic People's Republic of Korea.
Fighting global warming will be another top issue for Clinton during her visit, analysts have said.
Clinton is scheduled to spend an hour and a half of her 40-hour-long Beijing stopover at a clean-energy thermal plant on Saturday afternoon, where she will be accompanied by Todd Stern, special envoy on climate change.
"Having Stern in Beijing is telling China and the world that both countries are attaching great importance to climate change," Peking University Professor Zhang Haibin, who specializes in environmental politics, said.
China and the US are the world's two largest emitters of carbon dioxide, he said.
"Obama's administration is changing its predecessor's attitude on global warming and trying to take concrete action on environmental protection," he said.
As well as visiting a church and meeting a women's group, Clinton will give an exclusive interview to China Daily on Sunday. She is scheduled to meet with President Hu Jintao, Premier Wen Jiabao, Foreign Minister Yang Jiechi and other officials on Saturday.