BEIJING -- Visiting US Secretary of State Hillary Clinton pushed forward a US-China partnership dedicated to fighting global warming here on Saturday, as environmental deterioration becomes an increasing security issue for the world.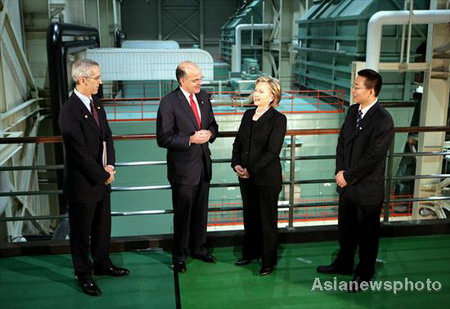 US Secretary of State Hillary Clinton (2nd R) chats with Mark Norbom, President and CEO of General Electric (GE) Greater China, as US Special Envoy for Climate Change Todd Stern (L) and GE President and Regional Executive Jack Wen (R) looks on, during a visit to the Beijing Taiyanggong Gas-fired Thermal Power Plant in Beijing February 21, 2009.[Asianewsphoto/by Xu Jingxing]
"The United States, certainly the Obama administration, we want China to grow," Clinton told an audience of university students and scholars on the environment and foreign relations while visiting China's largest gas-fired co-generation plant.
Related readings:


President Hu meets Hillary Clinton 


Clinton in Beijing to seek consensus


US to 'deepen relations' with China


Wen, Clinton underline bilateral ties
"What we hope is you don't make the same mistake we made, because I don't think either Chinese and the world can afford that," she noted, referring to the price the industrialized world has paid on environmental deterioration.
Fighting global warming jointly with China was a top issue for Clinton during her 40-hour-long Beijing visit.
In her earlier joint news briefing with Foreign Minister Yang Jiechi on Saturday morning, she had said they agreed on the need to develop clean energy technology that would use renewable sources and safely store emissions from burning coal.
During her speech at the Beijing Taiyanggong Gas-fired Thermal Power Plant, Clinton said the US and Europe "didn't know any better" about protecting the environment during their industrialization and growth process.
"Now we are smart enough to figure out how to have the right type of growth, sustainable growth, clean energy driven growth."
China and the US are the world's two largest emitters of carbon dioxide, together emitting more than 40 per cent of the world total.
"I heard a Chinese proverb recently that says 'dig the well before you are thirsty'," Clinton said, urging the two countries to join hands to fight climate change.
"The 21st century is testing us to determine whether we are smart enough to follow that advice. I think we are," she added, noting President Barack Obama's administration is ready to cooperate on the "thirst for tremendous cooperation with China".
Chinese environmental experts said the Obama administration, compared to its predecessor, is more pragmatic in dealing with the global problem of climate change.
"The Obama administration is … trying to take concrete action on environmental protection," Peking University Professor Zhang Haibin, a specialist in environmental politics, told China Daily.
Zhang suggested China learn from the US, particularly in research.
Similarly, Clinton also said experts and university students will have "a big role to play" in the US-China future partnership for clean energy.
"I know that your future depends on what decisions we will make now," Clinton told her audience, most of who were young students.
She also said that at the strategic and economic dialogue that the two nations have agreed on in principle, the clean energy issue will be at the center.
The one-year-old Taiyanggong Thermal Power Plant is an efficient, low-emission power and heat generation project that uses US high-technology - General Electric (GE) generators and advanced super-critical gas turbines.
The plant is also China's first gas-fired tri-generation facility in the city centre, providing both electricity and steam for heating in winter and cooling for air-conditioning in summer. Its efficiency is 13 percent higher than the most advanced coal-fired power plant in the world, according to earlier reports.
Commenting on the plant, US Special Envoy on Climate Change Todd Stern, who is accompanying Clinton on her China visit, said: "This is exactly the kind of thing the US and China should do more together."