China and the United States agreed Saturday that regular dialogue on economic issues would now be expanded to include security and other issues.
Video News:


Questions from Chinese for Hillary
Related readings:


Clinton pushes co-op on climate

President Hu meets Hillary Clinton 


Clinton in Beijing to seek consensus


US to 'deepen relations' with China


Wen, Clinton underline bilateral ties

Details of the bilateral dialogue will be finalized by President Hu Jintao and US President Barack Obama at an economic summit in London in April, according to visiting US Secretary of State Hillary Rodham Clinton.
The top US diplomat held extensive talks with top Chinese leaders including President Hu Jintao, Premier Wen Jiabao, as well as Foreign Minister Yang Jiechi, focusing on global financial crisis, climate changes, and deepening China-US relations.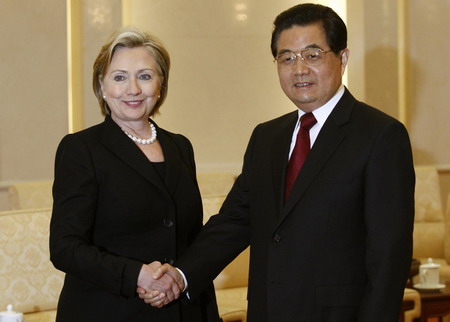 President Hu Jintao shakes hands with US Secretary of State Hillary Clinton (L) during a meeting in Beijing Feb 21, 2009. [Xinhua]
President Hu Jintao extended invitation to US President Obama to visit China at his earliest convenience.
"I am looking forward to exchanging views with him on bilateral ties and issues of common concern," Hu said.
Clinton noted that the Sino-US relationship has entered a new era of positive cooperation since the two sides share broad common interests on a host of fields and global issues.
While pushing forward a US-China partnership on fighting the global warming, Clinton said she hoped the Chinese would avoid the kind of environmental "mistakes" that accompanied development in Western countries.
Clinton said she and Chinese officials had agreed to develop clean energy technology that would use renewable sources and safely store the dirty emissions from burning coal.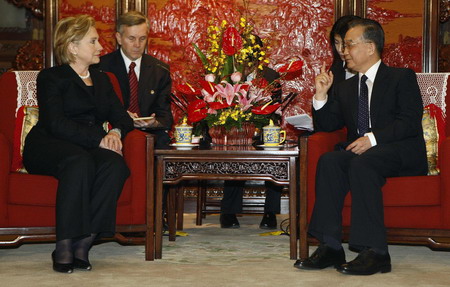 US Secretary of State Hillary Clinton meets Chinese Premier Wen Jiabao in Beijing Febr 21, 2009. [Agencies] 
With the export-heavy Chinese economy feeling the pinch from the US crisis, Clinton welcomed Beijing's continued investment in US government securities, reassuring that China's massive holdings of US Treasury notes and other government debt would remain a solid investment.
"We have every reason to believe that the United States and China will recover and together we will help lead the world recovery," she told reporters at a news conference with Foreign Minister Yang. In turn, Yang said China wants its foreign exchange reserves -- the world's largest nearing $2 trillion -- invested safely. "We are ready to continue to talk with the US side," Yang said.
Beijing was the last stop on Clinton's weeklong inaugural visit to Japan, Indonesia, South Korea and China.