Cultural crossroads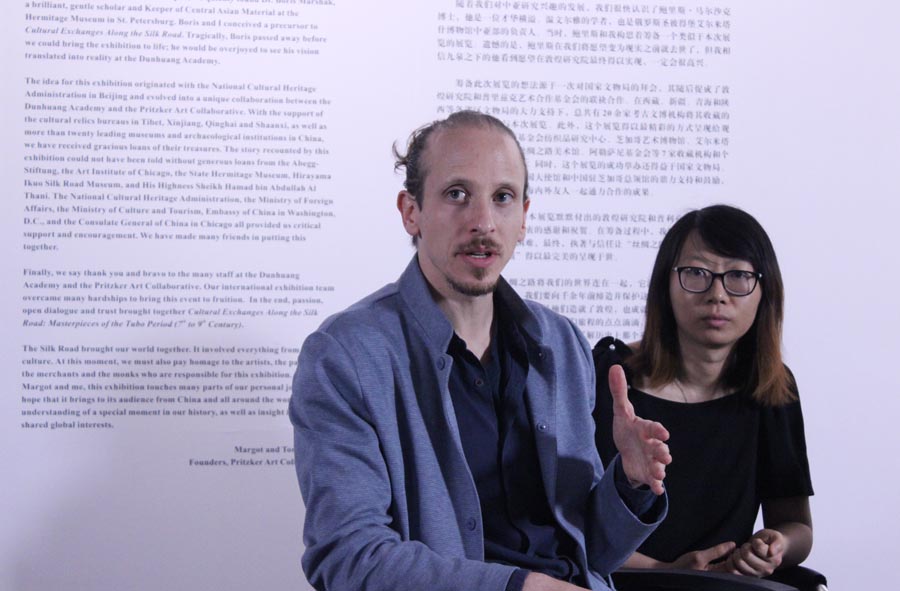 In 2017, when he was asked by the National Cultural Heritage Administration if he would consider exhibiting his family collection in China, he agreed.
His sentiment was echoed by Wang Xudong, the then director of the Dunhuang Academy, who spent over a year contacting institutions abroad and around China to contribute to the exhibition.
The Pritzker Art Collaborative brought 35 artifacts to the exhibition in Dunhuang. It is joined by key Chinese institutions, such as the National Museum of China, the Palace Museum and the Shaanxi History Museum in Xi'an, as well as several other major overseas collections, including the Al Thani Collection owned by the Qatari ruling family, the State Hermitage Museum in St. Petersburg, and Hirayama Ikuo Silk Road Museum in Japan.
Abegg-Stiftung, a Swiss collection that mainly features textiles, dropped its "zero loan policy" for the exhibition, opting in favor of cultural exchange and supplying 16 artifacts to the exhibition.
A hanging brocade with roundel featuring a pair of stags locking horns, on loan from Abegg-Stiftung, is one of the most important exhibits on display. It is believed to have been hung as decoration in the tents of Tubo nobles as a symbol of power.
"The Silk Road carries a message for all of us today," Thomas Pritzker says. "The world will always have problems ... Yet each culture has its own history and values, which are unique.
"If we learn more about another country's culture, it will be easier to find ways to solve these problems," he says.
Contact the writer at wangkaihao@chinadaily.com.cn