Cultural crossroads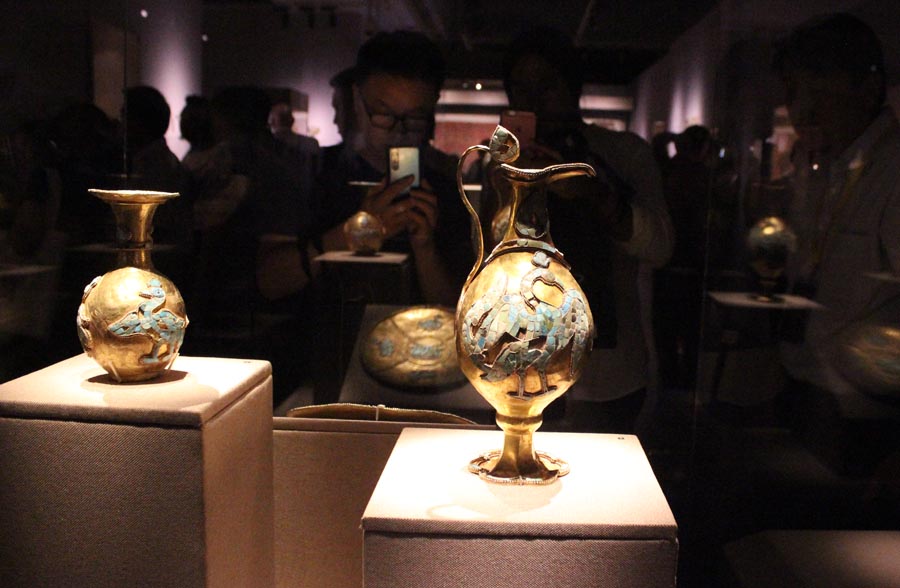 Jointly organized by the Dunhuang Academy, the research and management institution of the Mogao Grottoes and the Chicago-based Pritzker Art Collaborative, the exhibition opened last week and will run until Oct 22.
According to David Pritzker, co-curator of the exhibition, the event aims to display only the highest quality objects, both in terms of aesthetics and historical importance, to reflect the cultural interactions between the Tubo regime and its neighboring regions.
"To start with beauty is the best way to draw the general public into history," the curator says.
The exhibition hall is a glittering world. A burial mask with engraved animals, a figurine of a rider on horseback, a brooch inset with turquoise, amethyst and aquamarine-all made of gold-all demonstrate, not just the prosperity of that ancient era on the plateau, but its different facets.
Gilded silver ornamental artifacts provide one of the highlights of the exhibition. Six pieces depicting celestial deities playing Chinese lutes remind visitors of the popularity of music at that time, while an arched plaque also tells people of the Tubo people's admiration for the phoenix.
The daily life of the Tubo people is portrayed through a hunting scene on painted lacquer arrow quiver, a child's silk garment and horse-riding gear.
"When people talk about the Silk Road, it is largely about the East-West connection, yet little is said about the influence of Tubo on the Silk Road, since its timespan is relatively short," Pritzker says. "However, its role is important."