Free online access could spur runaway growth in internet industry
Share - WeChat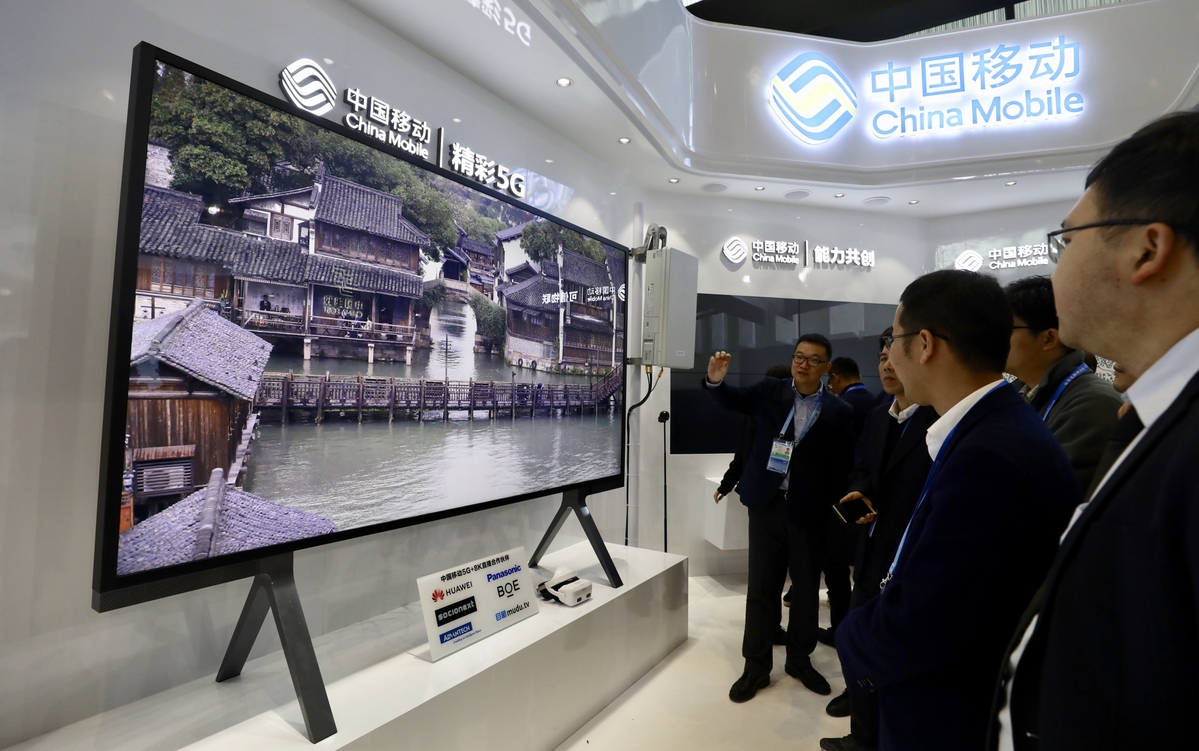 If all Chinese people secured lower-cost or free internet access, the internet industry could see exponential growth in market scale, analysts said.
"As more Chinese people enjoy the convenience of surfing the internet, free access to the internet has become increasingly important," said Zhang Fayou, an IT industry insider and co-founder of LinkSure Network, at a forum during the ongoing Fifth World Internet Conference.
"Through leveraging advanced technologies, including big data, users in the country are now able to access free Wi-Fi in all kinds of places. Chinese wisdom is bringing benefits to people from both urban and rural areas, and even overseas," said Zhang.
The internet industry in the world's second-largest economy has seen rapid growth over the last five years. From shopping and dining to housing and financing, over 800 million Chinese people are active in cyberspace today, boosting the development of internet-related businesses.
Nine of the world's top 20 high-market-value internet giants are Chinese, while five years ago, only two made the list, according to the Internet Trends report released by Mary Meeker, a partner at venture capital firm Kleiner Perkins Caufield and Byers.
Data from market consultancy International Data Corp show China's internet industry market scale grew by 97.8 percent in the first quarter of this year. However, nearly half of the population still has little or limited access to the web, and many live in rural or poorer areas.
Wang Li, who works at an internet company in Beijing, said in his hometown, a village of Nanyang in Henan province, only one family in three has Wi-Fi connectivity.
"Every time I return home during Spring Festival, it could cost several hundred yuan to use mobile data, just for a week," he said.
He added that most of the rural residents there are older people, who do not have much interest in using the internet.
At the end of 2017, internet penetration in rural areas was 35.4 percent, compared with 71 percent in urban areas, according to data from the China Internet Network Information Center.
Tian Li, director of the Internet Development Research Institution of Peking University, told People's Daily that companies are less interested in these regions due to the poor infrastructure and farmers' low internet adoption.
But this is changing.
According to a report by the China International Electronic Commerce Center in October, online shoppers living in villages spent over 632.2 billion yuan ($91 billion) nationwide from January to June, up 34.4 percent year-on-year.
Growing the user base
Internet giants are scrambling to outpace each other in the race to acquire vast user bases, as the surest means to increasing their market value.
Ride-hailing company Didi Chuxing has built the largest online traffic network by serving 450 million passengers.
Ant Financial, a 4-year-old startup, is now known as the world's largest third-party payments platform, valued at $155 billion.
The estimated value of China's largest on-demand online service provider Meituan-Dianping has reached about $60 billion.
The question experts are now asking is: how much larger could the market grow if barriers to accessing the internet were lowered, or even removed entirely?
"The internet is playing an increasingly important role in modern life. It has become a public facility," said Wang Zhe, an economics lecturer at Macquarie University.
"More cities are providing free internet access for residents. Companies are also beginning to work on products such as sharing networks."
Free Wi-Fi services are already widely available in public areas such as railway and subway stations, restaurants, stores and exhibition centers.
Wang Li from Nanyang said he tends to use public internet-sharing software, such as Wi-Fi Master Key, while watching videos to save money. "At first I saw some of my friends were using the internet for free. I asked them how to do it, then I tried it myself."
In 2013, LinkSure Network became one of the first providers of free public internet access services with Wi-Fi Master Key, which now has more than 900 million users worldwide.
"The lower the price, the higher the demand. When the cost of using the internet radically decreases, people will become more willing to join and spend more time reading the news, searching for information, doing their shopping and playing games online," said Zhang from LinkSure Network.
About 20 percent of its customers are first-time netizens, and their average time online is 1.7 times higher than non-customers, according to the company.
Chen Zhaoxiong, vice-minister of the Ministry of Industry and Information Technology, told Xinhua News Agency that the government will encourage free internet services in more public spaces.
Such services are common in the West. According to Luigi Gambardella, president of ChinaEU, the EU's WiFi4EU initiative is supported by millions of euros and aims to expand free high-speed wireless internet connections in public spaces, such as hospitals, libraries and public squares.
"Free internet access in public areas plays a key role in improving economic growth, social mobility, computer literacy and education," Gambardella said.
"Wi-Fi hot spots could help China to improve its internet penetration rate, which still lags behind North America (at 95 percent) and Europe (at 85.2 percent)," he said.
According to Gambardella, universal free internet access may still be a dream, but providing free connection in public places, particularly in rural areas, should be on the political agenda.
"I believe free Wi-Fi hot spots will boost social development and bring economic benefits."
Wang Zhe of Macquarie University said free internet access would significantly expand the number of netizens, creating more demand.
"Users in rural areas would demonstrate their unique characteristics, which would help make the internet industry more diverse and balanced," he said. "In general, it would enlarge the whole scale of the internet industry."
But such a move would also reduce the profit of traditional telecom carriers, he said.
Li Daxiao, chief economist at Shenzhen-based Yingda Securities, said scrapping the traditional profit model of charging for internet access could be offset by the greater business potential of a larger user base, for example via advertisement revenue.
"Using WeChat, reading e-mails and listening to the radio doesn't require payment, but the value behind those businesses is substantial," he said. "Monetizing the internet is not as simple as buying services."
If universal free internet access became a reality, China would accelerate to first place in the global internet industry, with strengthened competitiveness based on higher network traffic, he said.
The challenges are how to popularize the internet in remote areas and improve connectivity in less-populated regions, such as high mountains and grassland, Li said.
The safety of personal information while using shared internet services is also a cause for concern for customers.
Zhu Huandong, a legal specialist in Jiangsu province, said he used to log into free internet services at libraries on campus.
"I was worried whether others could see and even copy my essays," he said.
Now, he said he hardly uses free Wi-Fi in public areas. Every month, he pays 186 yuan to enjoy mobile internet with no network limitation.
But many are not as cautious as Zhu. He Ni, a 30-year-old online retail worker in Hunan province, said she is not afraid as long as there are no requests for passwords.
"If there was free internet everywhere, of course I would use it."
Cheng Yu contributed to this story.