85 stars that light up the heavens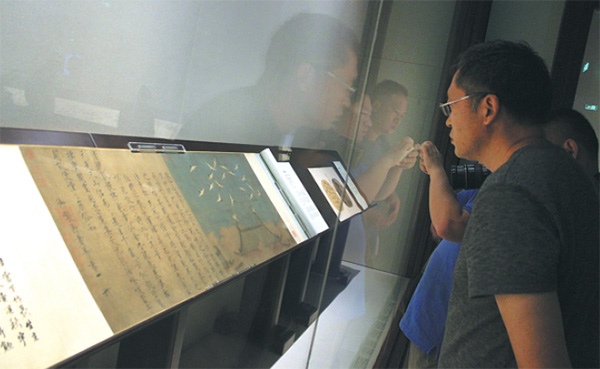 With the opening of ancient painting and calligraphy galleries all its 22 exhibition halls are now fully open to the public.
"We've come so late," Ma Baojie, the museum's curator, says. "But we're well prepared now. You can be sure that more than 70 percent of these exhibits are at the absolute pinnacle of quality."
Ma, thus allowing a little room for modesty, says the collection is not big enough, given that the museum houses only about 10,000 ancient paintings and calligraphic works. The Palace Museum has more than 130,000 such artifacts, and after any of its paper-based works are shown they are put into hibernation for at least three years.
For the Liaoning museum to support permanent galleries, putting works on ice for such long stretches is no doubt out of the question, but Ma stresses that no matter how famous an item is, it can only be exhibited for three months at most in one rotation to leave enough time for everything else.
Works will be rotated three times a year, and the two galleries will be closed for three months every year, Ma says.
Late last year and early this year, Liaoning Provincial Museum and eight major museums nationwide, took part in National Treasure, a China Central Television variety show, and three artifacts from the Liaoning museum, including Nymph of the Luo River, were presented to TV audiences with a comprehensive telling of the stories behind them.
On the back of the program's phenomenal success, the number of people visiting the Liaoning museum and others featured in the program swelled considerably.
Higher visitor numbers in museums throughout China are placing huge stress on their managements, and one way they are trying to deal with this is by introducing digital displays of exhibits. However, Ma says it is essential that the museums continue to offer "something real".
"For visitors, seeing original artifacts for themselves cannot be beaten. The use of digital methods or derivative cultural products can only be additional to that. Top-level treasures need to be exhibited more often."
His plan is to use technology to ensure that the atmospheric conditions of exhibition cases approximate as near as possible those of the warehouse in which they are stored, the temperature being kept between 18 C and 20 C and humidity at between 55 percent and 58 percent.
"However, the main thing is to keep an eye on the wellbeing of the works, and if any abnormal data are detected to remove them from display."
Setting a daily cap on visitor numbers to painting and calligraphy galleries is also a possibility, he says.
The Liaoning Provincial Museum says about 5 percent of its total collection is on display at any one time, one of the highest of Chinese museums.
Wu Yong and Zhang Tongtong contributed to this story.
If you go
Liaoning Provincial Museum
157 Zhihui Sanjie, Hunnan district,
Shenyang, Liaoning province
Opening hours: Tuesday
to Sunday, 9 am to 5 pm
(April to October), 9:30 to 4:30
(November to March)
Phone: 02422741193
Website: lnmuseum.com.cn
(English available)