85 stars that light up the heavens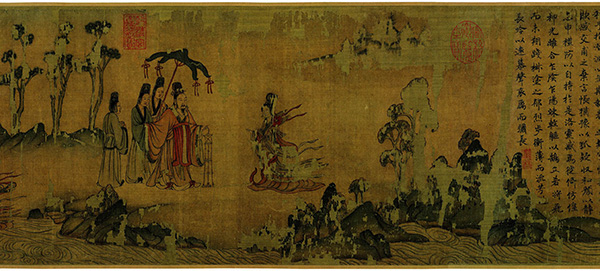 The original scroll by the fourth century master of fine art Gu Kaizhi, based on a well-known piece of poem-prose about romance with the same title from the Three Kingdoms period (220-280), is the earliest known Chinese painting that narrates a story. However, it was lost to history.
The one on display in Shenyang is a Northern Song Dynasty (960-1127) facsimile, Yang says, one of the two best facsimiles that survives, the other being in the Palace Museum in Beijing.
"This facsimile faithfully represents the spirit and artistic style of Gu Kaizhi's time," Yang says. "The goddess in bright colors is of noble vintage."
The Northern Song Dynasty was a peak era for fine art, a national painting academy being established under direct supervision of Emperor Huizong, or Zhao Ji (1082-1135).
There is no doubt that Huizong had his shortcomings as a ruler, but in the arts he was a prolific genius.