85 stars that light up the heavens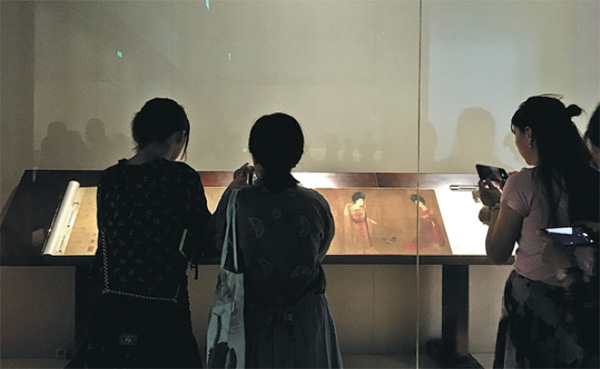 After Qing rule ended, the last emperor, Puyi, continued to live in the Forbidden City until 1924. In that period he secreted many paintings and works of calligraphy out of the palace ostensibly as gifts for his brothers.
As so-called emperor of "Manchukuo", the Japanese puppet state in Northeast China that lasted from 1932 to 1945, Puyi held these pieces in its capital known as Xinjing - today's capital of Jilin province, Changchun - and housed them in his "imperial palace" there.
Puyi abandoned Changchun on the eve of Japan's surrender that ended World War II, and many artworks were scattered to places unknown. Puyi also took some artworks by hand and planned to flee to Japan, flying from Shenyang.
However, soldiers of the Soviet Union managed to stop the aircraft just before it took off, and treasures including Court Ladies Adorning Their Hair with Flowers were prevented from going overseas.
The recovered artworks from both Puyi and more widely were later all put in custody of the Northeast Museum, which has become the Liaoning Provincial Museum.
"Along the River During the Qingming Festival also got into our collection this way," Yang says, smiling, "but it was eventually returned to the Palace Museum."
Along the River During the Qingming Festival by the Northern Song painter Zhang Zeduan is without doubt the most famous ancient Chinese painting. When it last went on public display, in 2015, there were long lines even until the wee hours as people waited to get just a glimpse of it.
The new Liaoning Provincial Museum covers 100,000 square meters, making it the biggest provincial-level museum in China. It is the product of the old museum being reestablished in another location, and it opened three years ago.