Right time for region to build economic community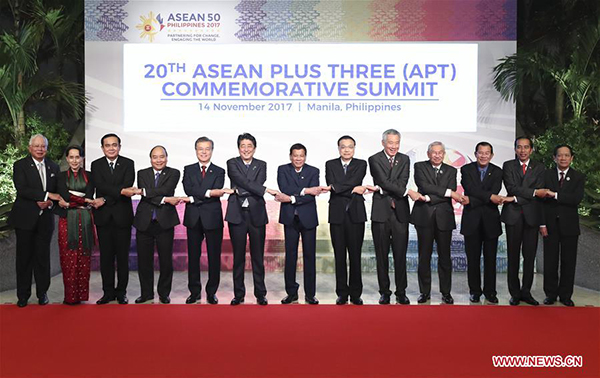 Chinese Premier Li Keqiang (6th R) and other leaders attending the 20th ASEAN-China, Japan and South Korea (10+3) leaders' meeting pose for a photo before the meeting in Manila, Philippines, Nov. 14, 2017. [Photo/Xinhua]
This year marks the 50th anniversary of the Association of Southeast Asian Nations, and China's relationship with the 10-member bloc is the most vibrant among the bloc's relations with its regional partners, not least because they share a similar view of the importance of interconnectivity, interdependence and cooperation.
In his meeting with ASEAN leaders on Monday, Premier Li Keqiang reiterated China's commitment to being ASEAN's good friend and good neighbor while urging them to work with China to build a community of shared future in the region based on congruous ideals and responsibilities.
Relations between ASEAN and China have withstood the tests of time and the recent meetings show they will continue to do so. To promote the development of ties in the coming years, Li proposed the formulation of a vision for the strategic partnership toward the year 2030 that would build on the existing good momentum in their political-security, economic and socio-cultural cooperation.
And with ASEAN agreeing to begin negotiations with China on a Code of Conduct for the South China Sea, relations stand at a promising new starting point.
The bloc has already vowed to build an ASEAN Economic Community and launched its Master Plan on ASEAN Connectivity 2025, and these can be aligned with China's Belt and Road development strategy to promote common prosperity.
The series of meetings taking place in the Philippines between the leaders of ASEAN and its regional partners, including China, Japan and the Republic of Korea, have sent a strong message that countries in the region are now ready and willing to deepen their cooperation.
Which is why, speaking at the ASEAN, China, Japan and Republic of Korea leaders' meeting on Tuesday, Li encouraged the "10 + 3", as they are known, to make concerted efforts to further advance regional integration and development by establishing an East Asia Economic Community.
As Li rightly pointed out, East Asia has weathered the storm of two financial crises and is now one of the world's most dynamic and promising regions in terms of development. It accounted for 44 percent of the world's economic growth last year. Given this, coordinated efforts from the countries in the region to establish an economic community would better fulfill the common aspirations of people in the region.
Enhancing the complementarity of development strategies and expanding practical cooperation to establish an East Asia Economic Community would not only generate shared economic benefits but also foster more mutual trust and respect.
By supporting each other in their pursuit of economic and social development, countries in the region can demonstrate they are not only good partners but also good neighbors, and in doing so forge a vibrant community with a shared future that can be a model for the world.
Today's Top News
Editor's picks
Most Viewed