BYD opens first European vehicle plant in Hungary
By Fu Jing in Brussels ( chinadaily.com.cn )
Updated: 2016-10-11 17:58:44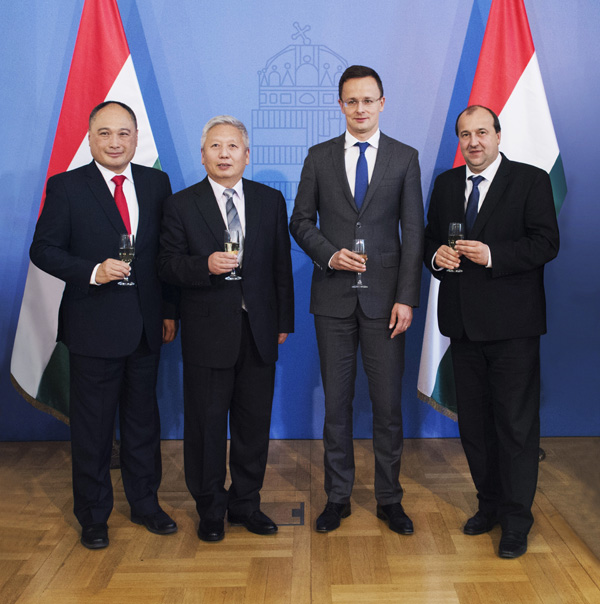 Isbrand Ho (left), BYD's Europe managing director says his company is exploring more assembly locations in Europe while it will put the first one built in Hungary into production in early 2017 in an interview with China Daily. [Photo by Marton Kovacs/For China Daily]
BYD, China's leading electric automaker, is to invest 20 million euro to construct a bus assembly plant in Hungary, the first one to be built by a Chinese car maker in Europe.
The company, the fast growing supplier of pure electric buses to cities across Europe in recent years, said its decision, which will create 300 new jobs, was based on Hungary's engineering excellence and competitive labor costs.
Hungary's active "Eastward Policy", aimed at attracting investment and boost trade flow from outside the European Union, was also a consideration in helping finalize the deal.
"The Hungarian plant will begin production in the first quarter of 2017. It will have its own R&D Centre and battery test facility," Isbrand Ho, BYD's Europe managing director, told China Daily.
Ho made the announcement on Monday at a ceremony in Budapest. The plant will be located in the northern Hungarian city of Komarom.
He said the factory will eventually employ up to 300 people and be capable of assembling up to 400 vehicles a year on two shifts, with initial output focusing on BYD's range of emissions free electric buses and fork lift trucks.
Ho revealed that his company are still exploring other European locations for building assembly plants.
"The announcement reinforces our company's commitment to the European market," said Ho.
"This is our first manufacturing facility but it won't be our last – we are actively looking for other locations".
Ho said BYD, with its e-buses buses and cars running in cities such as London, Amsterdam and Brussels, is helping European countries cut carbon emissions, a key move as the Paris climate change agreement will come into effect soon following strong support by China, the US and the EU.
Duan Jielong, the Chinese Ambassador to Hungary, said it was no surprise that the sales of the BYD electric bus were growing rapidly in countries such as the UK, France and the Netherlands as the diesel era comes to an end.
"The e-bus project has not only shown the commitment of the Hungarian government in developing green transportation but also will help rebuild the competitiveness of the country's bus industry," said Duan.
To contact the reporter: fujing@chinadaily.com.cn

We will not give up search, Li vows
International hunt for missing airliner continues after fruitless six-day search