Greek PM faces showdown talks with Merkel, Sarkozy
Updated: 2011-11-02 20:33
(Agencies)
| | | | | | | | | | | |
| --- | --- | --- | --- | --- | --- | --- | --- | --- | --- | --- |
|   | | Comments() | | Print | | Mail | | Large Medium  Small | 分享按钮 | 0 |
ATHENS - Greece's prime minister faces a grilling from the leaders of Germany and France on Wednesday after fighting to win the backing of his cabinet to hold a referendum on a 130 billion-euro ($178 billion) bailout package.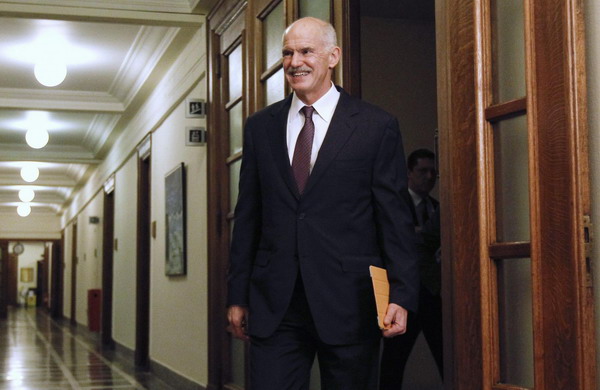 Greece's Prime Minister George Papandreou arrives for a cabinet meeting inside the parliament in Athens November 1, 2011. [Photo/Agencies]
French President Nicolas Sarkozy and Germany's Angela Merkel summoned George Papandreou for crisis talks in Cannes, before a G20 summit of major world economies, to push for rapid implementation of measures to tackle the euro zone debt crisis, which Athens has thrown into doubt.
"This announcement took the whole of Europe by surprise," Sarkozy said on the steps of the Elysee Palace in Paris. "The plan ... is the only way to solve Greece's debt problem."
Papandreou's gamble guarantees weeks of uncertainty just as the 17-nation European currency area is desperate for a period of calm to implement the remedies agreed last week to corral its sovereign debt crisis.
Some of Papandreou's party called for him to quit, accusing him of endangering Greek euro membership with his shock decision to call a popular vote, a move that pummelled the euro and global stocks.
But the cabinet support at least gives him a stay of execution before a confidence vote in parliament on Friday.    
"The referendum will be a clear mandate and a clear message inside and outside Greece on our European course and participation in the euro," Papandreou told a cabinet meeting that lasted seven hours.
"No one will be able to doubt Greece's course within the euro."
Even if he wins the confidence vote, the euro zone faces weeks of uncertainty in which markets can create havoc. Lose and Greece faces disorder which would hammer Europe's banks and threaten the much larger economies of Italy and Spain, which the currency bloc may not have the resources to bail out.
As a result, the Greek premier's move has aroused anger and surprise in equal measure around the world.
"That's enough now: Greeks out!" Kronen Zeitung, Austria's biggest-selling paper, said on its front page.
The chairman of euro zone finance ministers, Jean-Claude Juncker, said Greece could go bankrupt if voters rejected the bailout package and Japanese Finance Minister Jun Azumi said: "Everyone is bewildered."
Juncker, European Council President Herman Van Rompuy, European Commission President Jose Manuel Barroso, IMF chief Christine Lagarde and an ECB official will also attend Wednesday's talks in the southern French resort town.
The risk premium on Italian bonds over safe-haven German Bunds hit a euro-lifetime high on Tuesday to levels that proved unsustainable for Ireland and Portugal, despite European Central Bank buying of its bonds.
Ireland's finance minister said he believed the ECB would be forced to pledge "a wall of money" to buy peripheral bonds, something many of its policymakers are deeply uncomfortable about doing.
Until the Greek situation is clearer, key elements of the deal hammered out by euro zone leaders last week are likely to be unresolved, leaving the whole package in limbo and the ECB as the only bulwark against market attacks.
The head of Germany's banking association, Michael Kemmer, said agreement on a 50 percent writedown of Greek debt by its private creditors would have to wait. "I can't imagine a debt exchange taking place before the referendum," he said.