iPhone 4S goes on sale, fans pay tribute to Jobs
Updated: 2011-10-14 06:31
| | | | | | | | | | | |
| --- | --- | --- | --- | --- | --- | --- | --- | --- | --- | --- |
|   | | Comments() | | Print | | Mail | | Large Medium  Small | 分享按钮 | 0 |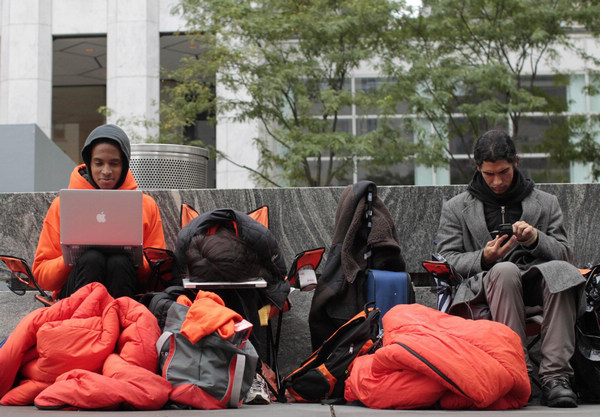 Customers wait in line to buy an iPhone 4S outside the Apple Store on 5th Avenue in New York, Oct 13, 2011. iPhone 4S sales in stores begin Oct 14 in Japan, Australia, France, UK, Germany, Canada and the United States. [Photo/Agencies]
SYDNEY - Apple Inc's iPhone 4S finally went on sale in stores around the globe on Friday, with fans snapping up the final gadget unveiled during Steve Jobs' lifetime, many buying the phone as a tribute to the former Apple boss.
"I think a lot of people are going to buy the iPhone 4S because it was the last iPhone Steve worked on," said Wil Batterham, 15, who with his school friend Tom Mosca were the first to buy the new phone in Sydney's Apple store.
"People are saying it was named after him, like iPhone 4S, for Steve," said Batterham.
Asked what will be the first function they use on the iPhone 4S, Mosca replied: "Ask where's Steve?", refering to the phone's "Siri" voice-activated software.
Hundreds queued around the block of the Sydney Apple store, many rugged up against the chilly morning, as Apple staff chatted and clapped a countdown to the store opening. Apple's 13 Australian stores were the first to open their doors at 8.00 am local time (2100 GMT, Thursday) to sell the iPhone 4S.
CEO Tim Cook and his executive team hope the first device launched without Apple's former visionary leader at the helm, will safeguard their global market share lead.
The iPhone 4S - introduced to the world just a day before Jobs died - was dubbed a disappointment because it fell short of being a revolution in design, but glowing reviews centered around its "Siri" voice-activated software have since helped it set a record pace in initial, online sales orders.
Apple fans showed no disappointment in Sydney on Friday as they queued to purchase a new phone, ahead of sales in Japan, Germany, France, Britain and North America.
"It's the only phone, I have upgraded my iPhone each time," said 19-year-old Mark Du.
Apple said it did not release sales figures on launch day, so gauging the initial sales may be difficult. Apple said it had taken more than 1 million online orders in the first 24 hours after its release, exceeding the 600,000 for the iPhone 4, though that model was sold in fewer countries.
Some analysts expect fourth-quarter iPhone shipments of as much as 30 million or more, almost double from a year ago.
Apple's fifth-generation iPhone uses chips from Qualcomm Inc, Toshiba and a host of smaller semiconductor companies, according to repair firm iFixit, which cracked the device open on Thursday.
First-day sales of Apple gadgets are typically a jubilant celebration around the world, but Apple has conspicuously avoided any mention or showcase of Jobs for the iPhone 4S global sales, preferring a more "business as usual" approach.
However Apple fans in Sydney made sure Jobs was part of the launch, with a small flower, candle and photo shrine outside the glass-fronted store.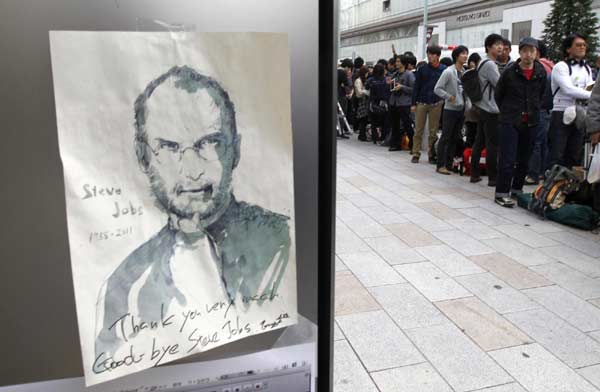 An image commemmorating Apple co-founder Steve Jobs is seen near customers queueing to buy iPhone 4S outside an Apple shop in Tokyo October 14, 2011. [Photo/Agencies] 
Speech recognition a winner
Analysts say Cook needs to move out from under his former mentor's enormous shadow soon, and avoid clinging to the Jobs' mystique to preserve its brand.
More immediately, with Google Inc Android phones gaining momentum, Apple needs the iPhone 4S to be a blockbuster.
The iPhone - seen as the market's gold standard - is its highest-margin product and accounts for 40 percent of its annual revenue. It is the world's biggest selling smartphone, maintaining a slim market-share lead over Samsung's  Galaxy, at 18.4 versus 17.8 percent worldwide.
In a sign of how tough the competition is, two doors along from the Sydney Apple store, Samsung has been selling its new Galaxy SII for only A$2 to its first 10 customers each day, prompting Samsung fans to also camp out on the footpath.
But analysts point to several factors in Apple's favor: a $199 price that matches up well with rival devices such as Amazon.com Inc's "Fire" tablet; availability promised on more than 100 carriers by the end of 2011, far more than its predecessors; and glowing reviews.
Apple's iconic smartphone comes with a faster processor and a better and more light-sensitive camera, but little else to separate it from its predecessor. But tech experts say the real gems lie beneath the phone's familiar sleek casing.
Influential reviewers Walt Mossberg and David Pogue raved about "Siri" - a voice-command activated assistant that responds to spoken commands and questions in context, such as queries about the weather or a friend's phone number.
But Mossberg added that "despite Siri, the iPhone 4S isn't a dramatic game-changer".