Cameron vows to restore order in UK
Updated: 2011-08-11 08:19
By Zhang Haizhou and Zhang Chunyan (China Daily)
| | | | | | | | | | | |
| --- | --- | --- | --- | --- | --- | --- | --- | --- | --- | --- |
|   | | Comments() | | Print | | Mail | | Large Medium  Small | 分享按钮 | 0 |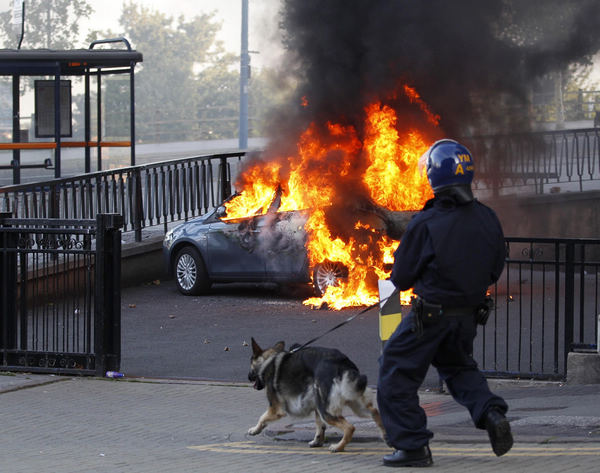 A policeman and his dog walk toward a burning car in Birmingham, in central England, on Tuesday. Thousands of policemen prepared to deploy on London's streets to head off rioters and looters who have rampaged through parts of the British capital virtually unchecked for the past three nights. [Darren Staples/Agencies]
London - British Prime Minister David Cameron said every action would be taken to restore order and Parliament will be recalled on Thursday to debate the riots that have engulfed London and are spreading across the UK.
Cities including Manchester, Birmingham, Liverpool, Nottingham and Salford all saw unrest, with shops attacked and looted and cars set on fire.
Three men died when they were hit by a car in Birmingham, the BBC reported.
Greater Manchester Police said officers had encountered "unprecedented levels of violence".
Police were authorized to take "any action necessary" to restore order, with contingency plans for water cannons to be available at 24 hours notice, Cameron said.
"We needed a fightback and a fightback is under way," Cameron said after a meeting of the government's Cobra emergency committee.
"This continued violence is simply not acceptable, and it will be stopped. We will not put up with this in our country. We will not allow a culture of fear to exist on our streets," he said.
The prime minister also warned that more arrests would take place.
"Picture by picture, the criminals are being identified and arrested."
Cameron will make a statement to MPs on Thursday about the situation. There will also be a full parliamentary debate, but the government is not proposing emergency legislation.
After four days of riots, a poll for the Sun found that 90 percent of British interviewees think the police should be able to use water cannons when dealing with rioters, and 77 percent support using the army to help deal with the situation.
However, 57 percent feel Cameron is dealing with the situation badly.
London was in a lockdown on Tuesday as businesses across the capital shut their doors early over fears of new rioting, even though the city was flooded with 16,000 police officers.
By mid-afternoon, many stores across the capital had closed their doors and companies had sent staff home amid concerns of further looting and arson.
In north London, Tottenham High Road and nearby lanes, where the riots began on Saturday night, were still cordoned off by the police on late Tuesday. Entry was allowed only to residents living in the area.
Police patrolling there said more than 100 people had been displaced.
Dr Malcolm Cross, a psychologist at City University London, said that the events of the last few days could significantly affect the mental health of citizens.
"Feeling safe in one's home and community is fundamental to good mental health," he said.
"For the people living in areas affected, observing the devastation on their local community could potentially have significant and enduring consequences.
"The aftermath of these riots will be ongoing, particularly as a criminal conviction at an early age can have a devastating and enduring effect on a person's life," Cross added.
Exclusive Analysis, a London-based political risk think tank, released a report recently, saying "the arrival of reinforcements, as well as attrition of rioters and improved intelligence about the dynamics of the incidents, is likely to allow the police to control public order by next week at the latest".
An analysis of nine major riots in the UK over the last 30 years indicates that on average they tend to last two days.
The 1981 riots in Manchester's Moss Side and the 2001 riots in Oldham lasted slightly longer, three days each.
However, a series of riots in Paris in 2005 continued for nearly three weeks, 2,900 arrests and nearly 9,000 cars burned.
"Any event requiring large numbers of police in London in the next week is likely to be cancelled," the report said.
Wednesday's international soccer match between England and the Netherlands at northwest London's Wembley stadium was called off, as were four Carling Cup ties in London and a soccer match between Ghana and Nigeria in Watford on Tuesday.
Hot Topics
The European Central Bank (ECB) held a conference call late on Sunday ahead of the market opening, pledging the ECB will step in to buy eurozone bonds with efforts to forestall the euro zone's debt crisis from spreading.