As Israeli soldiers clamped down Thursday on Gaza City , thousands of residents fled their homes looking for safety, many in their nightclothes.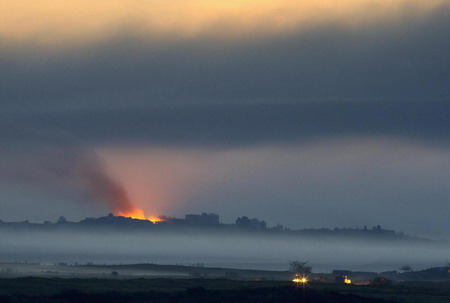 Smoke billows from a burning building in the northern Gaza Strip January 15, 2009. Israel killed a senior Hamas leader in an air strike on Thursday after unleashing its heaviest shelling of Gaza neighbourhoods in what might be a final push against the Islamist group before a ceasefire. [Agencies]
In response to the strike on media offices in Gaza City , the Foreign Press Association in Israel denounced Israel's "unconscionable breach" and urged members not to distribute or broadcast photos or video that the Israeli military gave them until there was a formal apology.
Since early November, Israel has imposed a near-blanket ban on international reporters entering Gaza , a decision that the press association, including McClatchy , is challenging.
Israel's high court directed Israel to allow reporters into Gaza during the fighting, but the Israel Defense Forces have refused to do anything more than take selected journalists on short embeds with troops.
"The FPA rejects and condemns the IDF policy of controlling the news coverage of the events in Gaza ," the association said Thursday in a statement. "By preventing the entry of foreign journalists into Gaza and bombing buildings housing offices of international media -- contrary to IDF assurances that these media buildings would be safe -- the IDF is severely violating basic principles of respect for press freedom."
The Israeli campaign has forced tens of thousands of Gazans from their homes with nowhere for them to go, collapsed Gaza's health system and cut off huge sections of the territory from water, electricity and medical care, nine human rights groups have said.
In a joint statement, the groups -- including the Israeli sections of Amnesty International and Physicians for Human Rights -- said Wednesday that, "This kind of fighting constitutes a blatant violation of the laws of warfare and raises the suspicion, which we ask be investigated, of the commission of war crimes."
Israeli officials have said that their forces don't intentionally target civilians, and they reject allegations that they've violated international laws.