Relations between the UN and Israel have been strained by Israeli attacks in Gaza that have killed United Nations staff members, students and refugees seeking refuge in temporary shelters. In the worst such incident, 43 Palestinians were killed last week when an Israeli strike hit a UN school where hundreds had sought safety.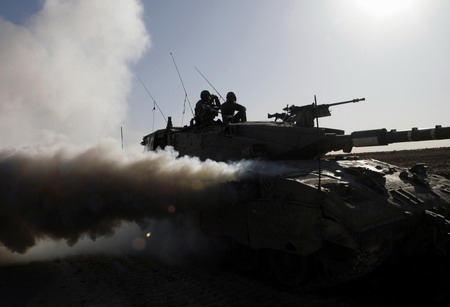 An Israeli tank moves on the border towards the northern Gaza Stip January 15, 2009. Israel unleashed its heaviest shelling of Gaza neighbourhoods on Thursday in what might be a final push against Hamas before a ceasefire, and Washington promised security guarantees that could bring a deal closer. [Agencies]
Then, as now, Israeli officials initially claimed that Hamas militants had fired from inside the school. After the UN denied that charge, Israel said that its soldiers had fired at Hamas militants who were firing mortars near the school.
On Thursday, Gunness said that Israel's shifting stories raise questions about Israeli officials' veracity.
"With every flip-flop, Israel's credibility is severely undermined," he said.
Israeli forces also hit a Red Crescent hospital where more than 100 staff and patients were trapped as a blaze engulfed the administration building.
"It is unacceptable that wounded people receiving treatment in hospitals are put at risk," said Jakob Kellenberger , the president of the International Committee of the Red Cross .
Another Israeli strike hit several high-rise buildings, including one that houses the Reuters news service's office.
Reuters had given the Israeli military the location of its office before the fighting broke out last month. On Thursday, as Israeli forces moved in, Reuters staffers said they called the Israeli military to remind them where they were.
Two minutes after they made the call, a shell hit their office, the Reuters staff reported.
The Associated Press reported that gunfire hit its office in a separate building.