Thursday's attacks came as Israeli negotiator Amos Gilad met with Egyptian diplomats who're trying to broker an end to the fighting that's claimed nearly 1,100 Palestinian lives so far.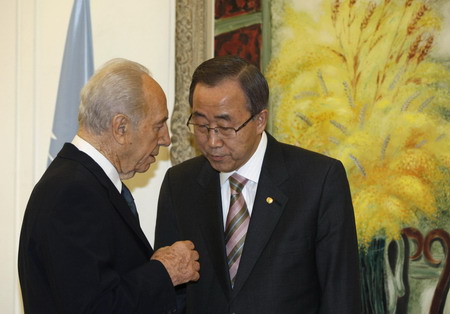 Israel's President Shimon Peres (L) speaks with UN Secretary General Ban Ki-moon upon Ban's arrival at the President's residence in Jerusalem January 15, 2009. Israeli forces thrust deep into central Gaza on Thursday, killing a senior Hamas leader, in what may be a final push against the Islamist group before agreeing to a ceasefire in the 20-day-old war. Ban, speaking after talks in Jerusalem with Israeli leaders, said: "I understand today the Israeli government will make an important decision on a ceasefire. I hope that decision will be the right one." [Agencies]
While Hamas leaders have said they back the Egyptian plan in principle, they haven't agreed to the details.
Egypt has proposed halting the fighting temporarily to allow mediators to draw up a longer-term ceasefire deal, but crafting a workable plan could prove difficult.
Israel has said it would end the military operation when Hamas halts persistent rocket fire aimed at southern Israeli cities and world leaders ensure that the hard-line Islamist forces running Gaza aren't able to smuggle more weapons in through tunnels under the Gaza - Egypt border.
Hamas has refused to concede defeat and vowed to keep fighting until Israel agrees to allow a normal flow of aid and supplies into Gaza .
Egyptian, Israeli and Hamas leaders all have suggested in recent days that a deal is within reach.
More Palestinians have been killed so far in Israel's offensive than in any single year this decade. Some 40 percent of the more than 1,000 dead are women and children, according to Palestinian medical officials.
More than 4,500 people reportedly have been wounded as Israeli forces have taken aim at densely populated civilian areas that military officials say Hamas fighters use as cover. On the Israeli side, 13 people have died, 10 of them soldiers.