GAZA CITY, Gaza Strip -- The Israeli military punched deeper into Gaza City on Thursday with a series of strikes that hit the United Nations' headquarters, a major hospital and the offices of international media groups.
As Israeli leaders weighed an evolving Egyptian initiative that's considered the best hope for ending the 20-day-old conflict, Israeli forces delivered another blow to the Hamas -led Gaza Strip .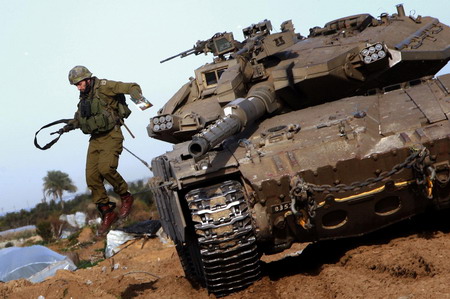 An Israeli soldier jumps off a tank in the northern Gaza Strip January 15, 2009. Israel killed a senior Hamas leader in an air strike on Thursday after unleashing its heaviest shelling of Gaza neighbourhoods in what might be a final push against the Islamist group before a ceasefire. [Agencies]
For the first time in the offensive, Israel killed a top Hamas political leader in the Gaza Strip . Late Thursday, an Israeli air strike hit Said Siam, who served as interior minister after Hamas won control of the territory in democratic elections in 2006.
The most spectacular strike Thursday came when Israeli forces opened fire on the UN compound in Gaza City and set off an uncontrollable blaze that sent a pillar of charcoal-black smoke hundreds of feet into the sky.
Israeli forces hit the compound as UN Secretary-General Ban Ki-Moon was preparing to meet with Israeli Foreign Minister Tzipi Livni in Tel Aviv.
Ban said that Israeli Defense Minister Ehud Barak had apologized for the attack.
"The defense minister said to me it was a grave mistake, and he took it very seriously," Ban said before meeting with Livni to discuss UN efforts to bring the fighting to an immediate end.
Israeli officials, however, later issued contradictory versions of why Israeli forces fired on the UN compound. An anonymous Israeli military official first said that Gaza militants had fired anti-tank weapons and machine guns from inside the compound.
Then Israeli officials came forward to say that preliminary results showed that the militants ran for safety inside the UN compound after firing on Israeli forces from outside.
Chris Gunness , a spokesman for the UN refugee agency dismissed the Israeli claims as "baseless" and challenged Israeli officials to produce evidence to support their version of events.