DUBLIN, Ireland -- Northern Ireland leader Ian Paisley and the head of state of the Irish Republic, President Mary McAleese, shook hands Monday for the first time - another symbolic milestone on Ireland's road to reconciliation.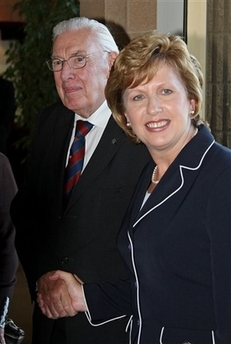 Northern Ireland First Minister Dr Ian Paisley, left, meets Irish President Mary McAleese for the first time, at Somme Heritage Center, which honors the sacrifices of British soldiers from Ireland in World War I, at Conlig in Northern Ireland, Monday, Sept. 10, 2007. [AP]
Paisley, 81, for decades rejected any role for the Irish Republic in Northern Ireland, a predominantly Protestant part of the United Kingdom. Last year, he accused McAleese of being a deceitful politician who talked nicely in public but privately loathed Northern Ireland's Protestant majority.
Since taking the helm of a new Catholic-Protestant administration in Belfast four months ago, First Minister Paisley has demonstrated a sudden zeal for cooperating with the predominantly Roman Catholic south.
A battery of photographers captured the moment when Paisley shook hands with McAleese, a Belfast-born Catholic, at a World War I heritage center east of Belfast. The two held hands and offered beaming smiles for several seconds as the cameras flashed.
McAleese, 56, who has made all-Ireland cooperation a major plank of her presidency since 1997, said the rise of Catholic-Protestant cooperation meant Northern Ireland was enjoying "a fresh and energizing new spirit of hope."
Paisley and McAleese met at the Somme Heritage Center, which honors the sacrifices of British soldiers from Ireland in World War I, particularly during the disastrous Somme offensive of 1916. The leaders jointly launched an exhibition on the 16th Irish Division, which was recruited largely from the Catholic south.
Paisley previously broke the ice at symbolic events with Irish Prime Minister Bertie Ahern but until Monday had avoided McAleese, the country's most high-profile diplomat.
Paisley refused to answer questions about tensions within the Free Presbyterian Church of Ulster, the hard-line Protestant denomination he founded in 1951. On Saturday, his office announced he would step down in January as leader of the Free Presbyterians but gave no reason. Paisley has yet to explain why he was ending his term.
His critics within the church - which rejects ecumenical contact with Catholics - have demanded he go because of his newfound willingness to share power with Sinn Fein, the Irish Republican Army-linked party that represents most Catholics in Northern Ireland.
Protestants and Catholics fought together in British uniform in World War I, although most Protestant troops joined the 36th Ulster Division. Many demobilized Catholic soldiers joined the outlawed IRA upon their return to Ireland, where a two-year guerrilla war led to Ireland's partition and independence for the mostly Catholic south in 1922.