A new video purportedly featuring Al-Qaeda chief Osama bin Laden appeared on the Internet Tuesday, the sixth anniversary of the September 11 attacks on the United States, CNN reported.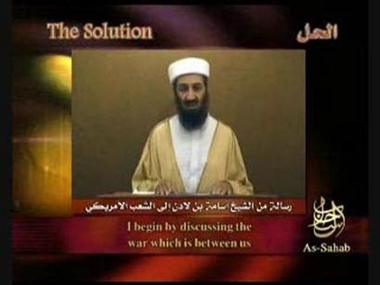 Al Qaeda leader Osama bin Laden speaks in a video released on a web site September 7, 2007. [Reuters]
The video shows a still image of Bin Laden with a voice identified as his praising September 11 hijacker Walid al-Shehri, who was aboard American Airlines Flight 11 which crashed into the World Trade Center, it said.
The authenticity of the video was not immediately confirmed, the television network said, adding that the video did not appear to show any moving images of Bin Laden.
Bin Laden appeared on a video on Friday, his first since October 2004, when he threatened new attacks against the United States in a video just days before the US presidential election.
Al-Qaeda's media arm, As-Sahab, had said Monday that it would release a second video of the group's leader.
In an interview with CNN, terrorism expert Laura Mansfield said the 47-minute long tape was "geared as a commemorative tape praising one of the hijackers of the 9/11 attacks."
"The first 14 to 15 minutes of the tape are bin Laden," Mansfield said. "The remainder of the tape is Waleed al-Shehri, one of hijackers on 9/11."
CNN said the video released Tuesday appeared to be purely a eulogy of Shehri, who like Bin Laden hails from Saudi Arabia. There is also no indication of when it was recorded, the US news network said.
But questions over the elusive Saudi extremist's beard cropped up at a Congressional hearing Monday featuring top US security experts, including Director of National Intelligence Michael McConnell.
"First, is this his beard?" Republican Senator Norm Coleman asked the spy chief. "Do we expect that -- is it a signal?"
McConnell swiftly rejected any possibility that the hair in his chin was intended to send any signal to his Al-Qaeda members.
"So far, we do not think there's been a signal. He's done this periodically, as has (Ayman al-) Zawahiri (the group's second-in-command), and there has not been a correlation necessarily between one of these tapes or a public statement and a particular event," McConnell said.
But he wondered whether Bin Laden's beard was genuine.
"The big question in the community this morning, 'Is that beard real,' because as you know, just a few years ago, the last time he appeared, it was very different," he said.
"So we don't know if it's dyed and trimmed or real, but that's one of the things we're looking at. But no specific message."