SAN JUAN, Puerto Rico -- Detainees flinging body waste at guards. Guards interrupting detainees at prayer. Interrogators withholding medicine. Hostility and tension between inmates and their keepers at the Guantanamo Bay prison are evident.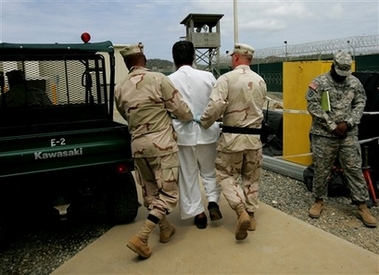 A Guantanamo detainee, center, is escorted by US military personnel away from the dental clinic, at Guantanamo Bay US Naval Base, Cuba, in this May 15, 2007 file photo. [AP]
These rare detainee accounts of life inside the razor wire at the remote US military base in Cuba emerged during Administrative Review Board hearings aimed at deciding whether prisoners suspected of links with the Taliban or al-Qaida should continue to be held or be sent away from Guantanamo.
The Pentagon gave the AP transcripts of hearings held last year in a trailer at Guantanamo after the news agency sought the material under the Freedom of Information Act.
Amid the tensions, the transcripts also show a few relaxed encounters between detainees and their guards and interrogators.
The military has said Guantanamo is relatively calm compared to last year. But a report released by the detention center last month shows mass disturbances are up sharply over 2006 and forced removal of prisoners from cells and assaults with bodily fluids are on pace to match or exceed last year's total.
The transcripts, obtained by the AP on Friday, illustrate the friction.
A Yemeni detainee, Mohammed Ali Em al-Zarnuki, warned his panel of three US military officers that inmates would attempt suicide unless guards stop interrupting prayers, moving detainees during prayer time and whistling and creating other distractions.
Four detainees have committed suicide at Guantanamo - three last year and one on May 30. Several other detainees have tried to kill themselves, including by overdosing on hoarded medicine.
"I want you to be aware of it because I don't want you to face a big problem," al-Zarnuki said. "The problem happened before. The detainees took medication before because of this. So if you do not put a stop to this, it is going to be worse than before."
The hearing's presiding officer assured the detainee he would pass the complaint on, but added: "We do not make the camp rules and we have nothing to do with the camp rules."
Commanders at Guantanamo had no comment Tuesday on the allegations. Guards have been trained to be sensitive about religious matters at Guantanamo, where wailing calls to prayer blare from loudspeakers while traffic cones are placed next to cells during prayer time, reminding guards not to interrupt.
In determining whether a detainee should remain at Guantanamo, the Administrative Review Boards consider whether he poses a security threat or has intelligence value. But detainees told the panels that lying to interrogators is common, calling into question the validity of the intelligence interrogators extract.