KINSHASA -- At least five people were killed in a cargo plane crash in the eastern Congolese town of Goma on Friday, the latest in a spate of crashes in the central African state.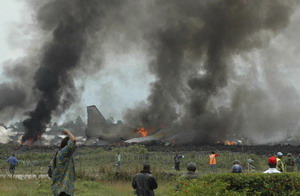 Smoke billows from a cargo plane that overshot the runway and caught fire while landing in the eastern Congolese town of Goma September 7, 2007. [Reuters]
The Russian-made Antonov-12 plane, carrying a cargo of palm oil, crashed into a hulk of hardened lava after overshooting the runway, bursting into flames and killing all five Russian crew aboard, witnesses said.
Debris was scattered across the high lava field and small explosions prevented rescue workers from approaching the site, they added.
The plane was operated by local Galaxy Kavatsi airlines. It was making a stopover on a flight from the capital Kinshasa to the town of Bukavu in neighboring South Kivu province.
It has yet to be determined whether there were other passengers on board, said a crew member from the airport.
Air travel is dangerous in the Democratic Republic of Congo (DRC) with aging planes suffering from a lack of maintenance and spare parts.
In March 2006, the European Union banned all but one of Congo's51 carriers from flying in Europe due to frequent accidents.
In August, a cargo plane crashed in Kamina, in Katanga province, killing 14 people.