WASHINGTON - US General David Petraeus told Congress on Monday he envisions the withdrawal of roughly 30,000 US troops by next summer, beginning with a Marine contingent later this month.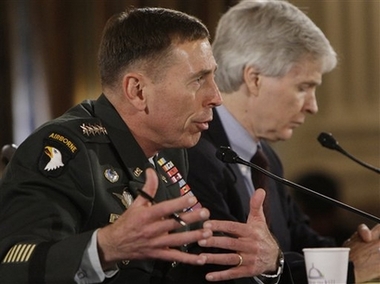 Gen. David Petraeus, left, accompanied by US Ambassador to Iraq Ryan Crocker testifies on the future course of the war in Iraq while appearing before a joint hearing of the House Armed Services Committee and House Foreign Relations Committee, Monday, Sept. 10, 2007, on Capitol Hill in Washington. [AP] 
In long-awaited testimony, the commanding general of the war said last winter's buildup in US troops had met its military objectives "in large measure."
As a result, he told a congressional hearing and a nationwide television audience, "I believe that we will be able to reduce our forces to the pre-surge level ... by next summer without jeopardizing the security gains we have fought so hard to achieve."
Testifying in a military uniform bearing four general's stars and a chestful of medals, Petraeus said he had already provided his views to the military chain of command.
Rebutting charges that he was merely doing the White House's bidding, he said firmly: "I wrote this testimony myself. It has not been cleared by nor shared with anyone in the Pentagon, the White House or the Congress."
His testimony came at a politically pivotal moment in the war, with the Democratic-controlled Congress pressing for a troop withdrawal deadline and the Bush administration hoping to prevent wholesale Republican defections on the issue.
Petraeus said that a unit of about 2,000 Marines will depart Iraq later this month, beginning a drawdown that would be followed in mid-December with the departure of an Army brigade numbering 3,500 to 4,000 soldiers.
After that, another four brigades would be withdrawn by July 2008, he said. That would leave the United States with about 130,000 troops in Iraq, roughly the number stationed there last winter when President Bush decided to dispatch additional forces.
He said he believes withdrawals could continue even after the 30,000 extra troops go home, but he added that it would be premature to make any further recommendations.
Initial reaction from Democrats was sour.
Rep. Tom Lantos, D-Calif., chairman of the House Foreign Affairs Committee, said it was a "token withdrawal," and Petraeus rebutted him swiftly.
"A very substantial withdrawal," he countered.
Petraeus didn't say so, but Ambassador Ryan Crocker strongly suggested that the administration's troop buildup had prevented a debacle.
Testifying alongside the general, Crocker said 2006 was a "bad year for Iraq. The country came close to unraveling politically, economically and in security terms. 2007 has brought improvement."
The extent of any improvement has been a matter of debate. The Government Accountability Office, a congressional agency, recently reported that Iraq has partially achieved only four of 18 political and military goals.
While Petraeus focused his remarks mostly on military matters, he also noted the failure thus far of the Iraqi government to take the actions needed to stabilize the country for the long term.
"Lack of adequate governmental capacity, lingering sectarian mistrust, and various forms of corruption add to Iraq's challenges," he said.
Using 13 pages of colorful charts, Petraeus said "the level of security incidents has declined in eight of the past 12 weeks, with the level of incidents in the past two weeks the lowest since June of 2006."
Petraeus also said the Iraqi military is slowly gaining competence and gradually "taking on more responsibility for their security."
He cited Anbar province as an example of Iraqis turning against terrorists, adding, "We are seeing similar actions in other locations as well."
Bush and his political allies have worked forcefully in recent weeks to shore up Republican support. One organization with ties to the administration has spent millions on television advertisements, and Bush traveled to Anbar province last week to highlight improved security in the vast western stretches of Iraq.
Bush also called Iraqi Prime Minister Nouri al-Maliki in the hours before Petraeus spoke, and is expected to deliver a nationwide address on the war in the next few days.
Despite the administration's efforts, fresh polls reflected significant public opposition to the war.
An AP-Ipsos survey found that only 36 percent of those questioned believe the troop increase has helped stabilize Iraq. That was up only marginally from 32 percent in February, as the buildup was beginning.