Jerusalem -- Meeting the Palestinian leader face to face, Israeli Prime Minister Ehud Olmert offered yesterday to release Palestinian prisoners ahead of the Muslim holy month of Ramadan and agreed to set up a negotiating team to advance peace efforts ahead of a US-sponsored Mideast conference.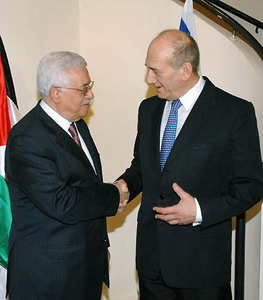 Israeli Prime Minister Ehud Olmert (R) meets with Palestinian National Authority President Mahmoud Abbas in Jerusalem, Sept. 10, 2007. [Xinhua]
The three-hour meeting between Olmert and Palestinian President Mahmoud Abbas was the latest in a series of talks between the men aimed at reaching a "declaration of principles" ahead of the conference, expected in November.
In a potential sign of progress, the men agreed to set up negotiating teams to work on some of the key issues that would have to be resolved as part of a peace agreement, said Jacob Galanti, an Israeli government official.
He said the teams would discuss such matters as water, the environment, energy and economic issues. However, he made no mention of the most contentious issues in the Israeli-Palestinian conflict: the borders of a future Palestinian state and the fate of Palestinian refugees and the disputed city of Jerusalem.
Olmert also said he would recommend that Israeli authorities release an unspecified number of Palestinian prisoners for the Muslim holy month of Ramadan, which begins this week, Galanti said. The recommendation still needs approval from Israeli defense officials, he added.
Abbas has long sought a release of Palestinian prisoners to shore up his public standing. Israel holds an estimated 11,000 Palestinian prisoners, and their fate is an emotional issue in Palestinian society, where virtually every family has a relative held by Israel.
Galanti also said that Israeli officials would decide next week on the lifting of roadblocks and other travel restrictions in the West Bank. Palestinians say the roadblocks, which Israel says are necessary security measures, are strangling their economy.
A new poll released yesterday gave Abbas an important boost, showing that nearly three-quarters of Palestinians oppose Hamas' Gaza takeover.
The survey also said that if presidential elections were held today, Abbas would win with 59 percent of the vote, compared with 36 percent for Hamas leader Ismail Haniyeh. Past surveys had shown the men running neck and neck.