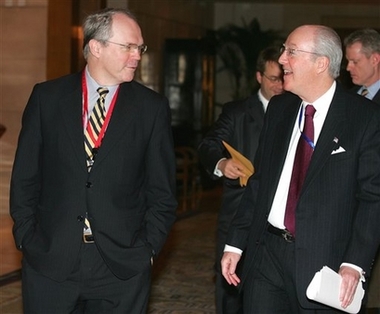 US Assistant Secretary of State Christopher Hill, left, shares a laugh with US Ambassador to China Clark Randt as they walk through a hotel before a third day of six party talks on North Korea's nuclear program, in Beijing Saturday Feb. 10, 2007. [AP]


BEIJING - Negotiators on North Korea's nuclear programs engaged in intense diplomacy on Saturday but a deal that would see the country take its first real steps to disarm remained elusive.
Special coverage:
North Korea nuclear talks resume in Beijing 

Related readings:
 N.Korea ready to discuss disarmament
 N.Korea nuke talks resume amid optimism
 China retakes centre stage in nuclear talks
 Six-Party Talks to resume on February 8
 Swift return to Six-Party Talks called for
 China pushes resumption of six-party talks
 DPRK hints at flexibility in Six-Party Talks
 Hill to visit China for six-party talks
 Rice urges DPRK to return to 6-party talks
 Six-party format should be kept - Japan
US envoy Christopher Hill said disagreements had come down to a single issue that may take another day or two to resolve.
"I really think we are down to one main issue which I think we can get through," Hill said after a third day of talks on a proposal from host China. He declined to say what the issue was.
"It may take another day or two to get through this," he said.
Representatives from China, Japan, the two Koreas, Russia and the US spent Saturday in various meetings, discussing a draft agreement outlining moves for North Korea to disarm and what aid and guarantees it would get in return.
The US and other countries are trying to extract from North Korea a commitment to make its first tangible steps toward abandoning its nuclear programs since the negotiations began in 2003. That goal has become more pressing since the North tested its first nuclear bomb in October, during one of the many deadlocks in the talks.
South Korean envoy Chun Yung-woo hinted that the dispute was related to North Korea's long-standing demand that Washington drop its "hostile" policy toward Pyongyang.
"There is something that North Korea has said every time since long ago as to what should be the basis (for the agreement)," Chun said.
Chinese foreign ministry spokesman Qin Gang said there were "still fairly big differences among the different parties."
"We do expect to see good progress although we are still likely to face twists and turns," he added.
Japan's top envoy said the North was still "very much apart from that of the other parties."
"The situation continues to be severe," Kenichiro Sasae said. "We are boiling down our problems but there is no conclusion in sight for several issues."
The Chinese draft proposal - presented after North Korea agreed in principle at the start of this round of talks to take initial steps to disarm - would grant the nation unspecified energy aid for shutting down its main nuclear facilities within two months, South Korea's Yonhap news agency reported.
North Korea is demanding it be given energy aid equivalent to 2 million kilowatts of electricity during the initial disarmament period, Yonhap said.
Russian envoy Alexander Losyukov said the size of the aid package was being discussed, the Interfax news agency reported. "The most important task today is to define the amount of planned aid," he was quoted as saying.
Hill said two other key issues that have previously stalled the negotiations were not problematic this time. They include US restrictions on a bank where North Korea held accounts for its complicity in alleged financial crimes, and demands that North Korea be given a nuclear reactor for generating electricity.
A pro-Pyongyang newspaper in Japan that has links to North Korean government said Saturday that North Korea could even dismantle its main nuclear complex, but the problem is the US.
"North Korea won't take its first step toward denuclearization even if whatever aid is provided, as long as the US does not switch over its policy," said the report.