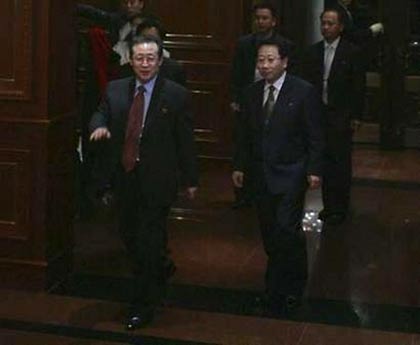 Chief North Korean negotiator Kim Kye-kwan (L) arrives for a banquet at the end of the second day six-party talks in Beijing February 9, 2007. [Reuters]


Talks to end North Korea's nuclear programme fell short of an accord on Saturday, snagging on disputes over what aid Pyongyang would get for disarming, but envoys said the gulf between the parties was narrowing.
Special coverage:
North Korea nuclear talks resume in Beijing

Related readings:
N.Korea ready to discuss disarmament
N.Korea nuke talks resume amid optimism
China retakes centre stage in nuclear talks
Six-Party Talks to resume on February 8
Swift return to Six-Party Talks called for
China pushes resumption of six-party talks
DPRK hints at flexibility in Six-Party Talks
Hill to visit China for six-party talks
Rice urges DPRK to return to 6-party talks
Six-party format should be kept - Japan
Envoys from the two Koreas, the United States, Russia, Japan and host China focused on the energy and aid incentives Pyongyang would receive in exchange for jettisoning its nuclear weapons programmes.

But they could not bridge the gap and the negotiations, on again and off again for more than three years without a resolution, stretch into a fourth day on Sunday.

"Issues have been narrowed, but we can't see any solution to several issues," Japan's chief negotiator Kenichiro Sasae said. "North Korea and the five countries are considerably far apart."

A diplomatic source close to the talks said: "With respect to energy and economic aid for North Korea, a huge gap remains between North Korea and the five countries in terms of figures and volume."

South Korean envoy Chun Yung-woo declared early on Saturday that the weekend could bring about a "watershed" in the talks. But by the end of the day he said the parties' interests were not meshing easily, though the North had a firm position on how it would denuclearise.

"As they like to say these days, we can't predict when the egg will hatch, but we know for sure that it's not an unfertilised egg," Chun said.

Momentum

Earlier, chief US negotiator Christopher Hill, suggesting some impatience, said one issue remained in dispute -- and it was not to do with North Korea's Yongbyon nuclear plant, at which operations would be suspended under a draft deal.

The fresh momentum among the six came after US and North Korean teams met for unprecedented talks in Berlin last month.

That meeting cooled tension after Pyongyang's first nuclear test blast in October, a step that triggered UN sanctions.

Japan's Kyodo news agency said North Korea had demanded energy aid equivalent to more than 2 million tonnes of fuel oil annually in exchange for taking initial steps toward abandoning its nuclear programmes.

The New York Times said officials at the White House and the US State Department were preparing for a major announcement this weekend, and described it as different from the nuclear freeze that the Clinton administration negotiated in 1994.

"This is the Libya model," one senior US administration official was quoted as saying, referring to Libya's decision in 2003 to turn over all of the equipment it had bought from the secret nuclear network run by Pakistani scientist, Abdul Qadeer Khan, to produce bomb fuel.

A diplomatic source said the draft deal prepared by China this week stated North Korea would "suspend, shut down and seal" nuclear facilities at its Yongbyon plant within about two months in return for energy and economic aid.

In September 2005, envoys agreed a joint statement sketching out the nuclear disarmament steps Pyongyang needed to take to secure fuel and economic aid, as well as political acceptance from its foe, the United States.

But that deal was pushed to the side after Washington accused North Korea in late 2005 of laundering income from counterfeiting US currency and other illicit business. The ensuing crackdown on a bank in Macau enraged Pyongyang.