The envoys of the six-party talks on the Korean Peninsula nuclear issue on Friday considered a Chinese draft document to embark on the first steps towards denuclearization on the Korean Peninsula.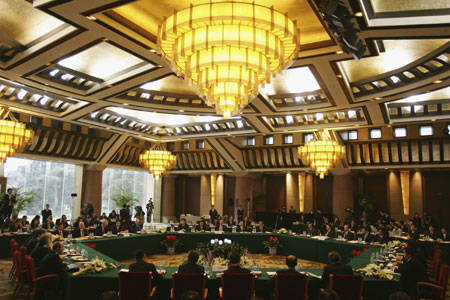 A general view of the opening ceremony of the six-party talks on North Korea's nuclear programme in Beijing February 8, 2007. [Reuters]


"The Chinese delegation circulated a draft, but we haven't had much discussion yet....it's a process starting with discussion and moving to the written form," said chief US negotiator Christopher Hill.
"Surely we will have bilateral meetings with all other parties discussing the draft. It will be a long day," said Hill.
Hill also indicated that the talks would establish "four to six" working groups to deal with the denuclearizatioin process.
The talks entered the second day Friday, with negotiators bargaining the draft for a possible deal. The draft was circulated to the delegates last night.
Reports said the draft agreement proposed stopping within two months the work of nuclear sites of the Democratic People's Republic of Korea (DPRK), including the Yongbyon reactor, and supplying Pyongyang with alternative energy sources.
"The parties will start discussing the draft today," said chief negotiator from the Republic of Korea (ROK) Chun Yung Woo, saying the draft lays a "not bad" basis for the nuclear talks.
Chun said the draft is more specific than the broad 2005 joint statement, but warned it's still hard to say whether the talks will go ahead successfully.
Japanese negotiator Kenichiro Sasae also implied that there are still different opinions about the draft.
"China has its views while Japan has its own stance," Sasae told reporter.
China will coordinate positions advanced by the other parties and the Japanese side will try its best to help strike a deal based on the Chinese proposal, said Sasae.
After 48-day recess, the negotiators regathered in Beijing, focusing on the first steps to implement the statement, according to which the DPRK agreed to abandon its nuclear program in exchange for economic aid and security guarantees.
The DPRK envoy Kim Kye-Gwan, after arriving in Beijing Thursday, said "we are prepared to discuss initial denuclearization steps... We are neither optimistic nor pessimistic because there are still a lot of problems to be resolved."
China, being a host since the six-party talks began in 2003, raised its expectation for starting to materialize the joint statement.
"I hope the meeting will be a good beginning for implementing the joint statement, and a new starting point in the process of denuclearization of the Korean Peninsula," said chief Chinese negotiator Wu Dawei at the opening ceremony on Thursday.