Seeking new opportunities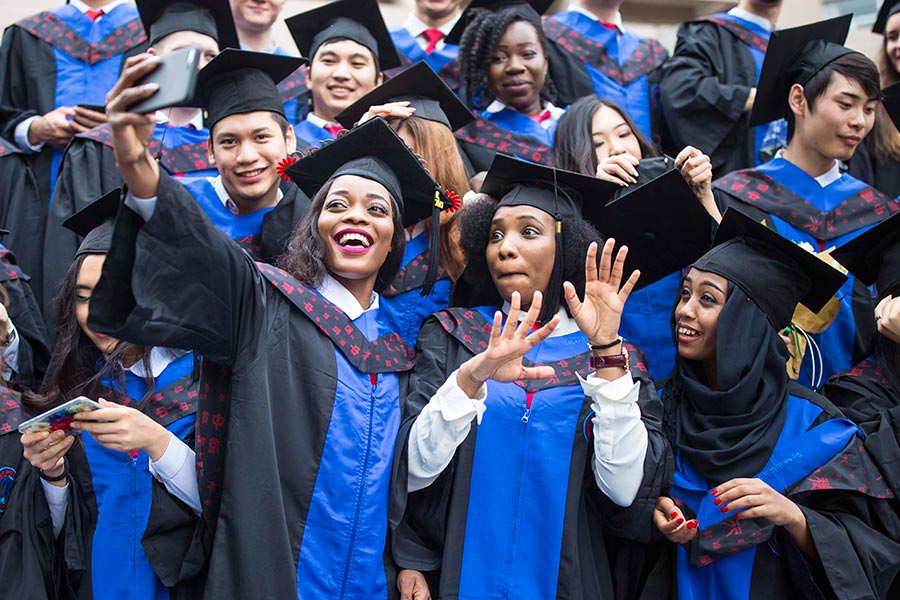 Emefa takes a graduation picture with her fellow classmates at Guangdong University of Foreign Studies. [Photo by Chen Youzi/China Daily]
China now attracts the largest number of overseas students in Asia. In 2016, the number was 440,000, four times than that from a decade earlier, of which nearly 30,000 are in Guangdong province. Now that graduation season has come to an end, many foreign students aim to stay in Guangzhou, and Emefa from the Republic of Togo is one of them.
The-25-year-old is a graduate from Guangdong University of Foreign Studies where she majored in Chinese. She is now seeking a job and is confident about succeeding in Guangzhou.
But while she is optimistic about her chances, there is a tinge of sadness too. "My family is too far away from Guangzhou, so my mom and dad cannot come to watch my graduation ceremony. It's a pity," says Emefa.
 She says finding a job in Guangzhou will make family very happy. "Our country's per capita income is not high, so it's not easy to send a child to study in China," she says.
She likes the bustling city tempo, the skyscrapers and the neon lights of Guangzhou and she loves her Chinese friends and the hospitality of the Chinese people. Although she has been in China only for four years, she speaks fluent Chinese. She now works as a marketing intern.