Getting to the top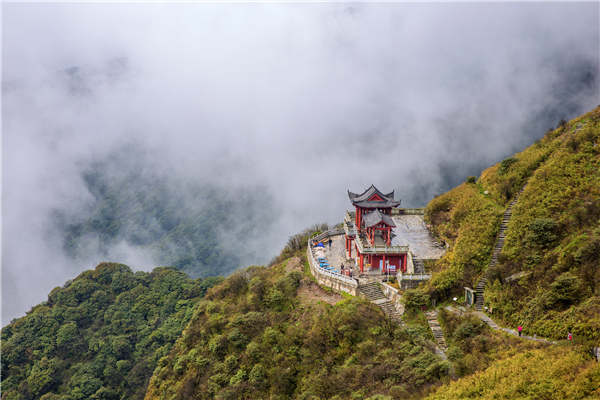 Tourists who want to ascend to the peak of Fanjing Mountain in Guizhou province need to be strong both physically and mentally, but the spectacular view with two Buddhist temples sitting atop makes the trip worthwhile. Photos by Yang Jun/China Daily and Provided to China Daily
For city-dwellers longing for fresh air, Fanjing Mountain with its vast forests is a natural oxygen bar. Xu Wei reports from Tongren, Guizhou province.
For anyone who wants to see the best of China's southwest, Fanjing Mountain (Fanjingshan) is a must-visit. But watch out, the best is not for the faint-hearted.
For city-dwellers longing for fresh air, the mountain, with its vast forests, is a natural oxygen bar. For adventure seekers, the mountain peak, with its almost vertical and slippery steps, offers a challenge guaranteed to quicken the heartbeat.
As you approach, you see the well-preserved mountain surrounded by dense forests and creeks with their almost crystal clear water.
The mountain also provides a habitat for the gray snub-nosed monkey, or Guizhou snub-nosed monkey, and Abies fanjingshanensis, a species of conifer found only in the mountain area.
As you ascend the mountain by cable car, you find yourself surrounded by thick clouds and dense canopies below you.
As you are halfway up the mountain, the evergreen forests, dotted with stunning wildflowers, offer you a spectacular view of the landscape.
On the horizon, valleys, rocks, cliffs and peaks start to reveal themselves.