Shanghai still top spot for those moving from abroad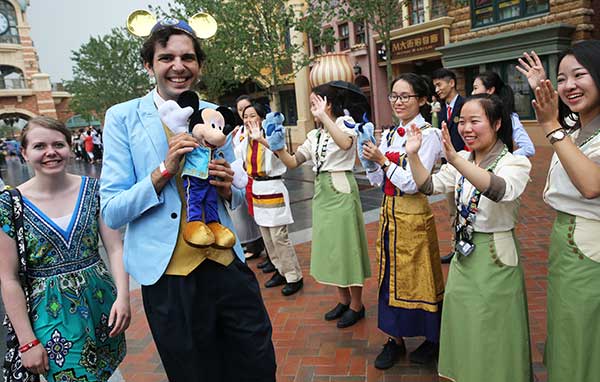 Two foreign tourists receive a warm welcome at Shanghai Disneyland for the theme park's grand opening on June 16, 2016. Spots like Disneyland can help attract foreigners.[Photo/Xinhua]
Shanghai has ranked as the "most attractive" city for foreign residents for the fifth consecutive year due to its international atmosphere and multicultural environment, according to an annual survey.
Beijing, the nation's capital, remained second, thanks to its advantages in healthcare and educational resources, while Hangzhou, the so-called "Heaven on Earth" in Zhejiang province, held onto third place.
The rankings, released Saturday, were based on a survey of about 25,000 expatriates nationwide in December and January. The criteria ranged from the living environment and local culture to administrative services and favorable policies for foreign residents.
The China Society for Research on International Professional Personnel Exchange and Development launched the annual survey in partnership with the International Talent magazine in 2010 as a way to promote the nation's cities.
One of the biggest changes in the top 10 was for Qingdao, a coastal city in Shandong province, which moved up two places to fourth, replacing Shenzhen, the southern metropolis, which slipped to sixth.