Nanluoguxiang reopens after 2-month renovation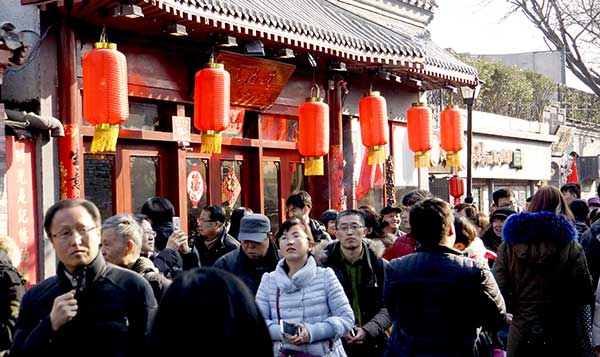 Visitors stroll through Nanluoguxiang, a popular alleyway in Beijing, after the completion of a renovation project earlier this month.[Photo/Xinhua]
Nanluoguxiang, a popular alleyway in central Beijing known for its traditional culture, reopened during the Spring Festival holiday after the completion of a two-month renovation project.
Work to complete the upgrade of the 800-meter-long narrow alley, which was initiated by shop owners rather than the city government, lasted from Oct 28 to Dec 28.
Wei Ziyou, 29, visited Nanluoguxiang on Thursday and said the new-look alleyway has a cleaner, fresher feel to it, as there are fewer stores and fast-food stands.
"However, as a local resident, I still don't think there is enough traditional Beijing culture on display, despite a new cultural center being opened to the public at the south end of the alley," Wei said.
The cultural center is a nonprofit enterprise that displays and sells folk art, such as New Year pictures, and sugarcoated and dough figurines.
"It should be more creative than it is. Beijing has much more to offer in terms of culture," Wei added.
The major reason for the renovation was that the alley, which was previously a hub of ancient Chinese cultural elements, had become primarily a food street, resulting in complaints from residents, tourists, shop owners and officials.