China's icy Harbin gets ready for annual snow festival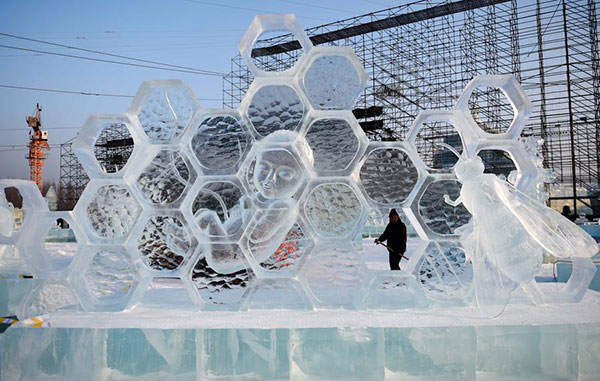 The 2017 Harbin International Ice and Snow Sculpture Festival kicks off on Thursday and runs to the end of February.[Photo/Xinhua]
Artists put the final touches on a dazzling display of ice sculptures in China's northern city of Harbin on Wednesday, home to one of the world's biggest ice and snow festivals.
The 2017 Harbin International Ice and Snow Sculpture Festival kicks off on Thursday and runs to the end of February.
The event, in the northeastern province of Heilongjiang, draws visitors from all over China as well as foreign tourists to one of the country's coldest places, where winter temperatures can fall to minus 35 Celsius.
Qing Wenyu, a tourist from the southern Guangxi region, was among the travellers getting a sneak peak at the sculptures mostly carved out of ice blocks cut from the frozen surface of a nearby river.
"When I was in primary school, I read about how it snows in the northern part of our country in a textbook. So this has really attracted me to this place for some 10 years or so," said Qing after taking a ride down an ice slide.
Nearby, artists laboured over their icy creations, some of which resembled famous historical figures and landmarks such as Italy's Leaning Tower of Pisa.
Work on the ice carvings begins in mid-December, with some projects rising as high as a two- or three-storey building, the festival's official website said.
In addition to the sculptures, Harbin offers visitors a slew of activities, ranging from winter swimming and ice sailing to a mass wedding ceremony on ice that attracts couples from around the globe.
Zhang Yanyan, a 31-year-old tourist from southern Fujian province, said she was drawn to the colourful lights that illuminate the ice sculptures at night.
"I think they're all beautiful. I really like it here," she said.